WND Hypes Colbert Staffers' Arrest, Censors Charges Being Dropped
Topic: WorldNetDaily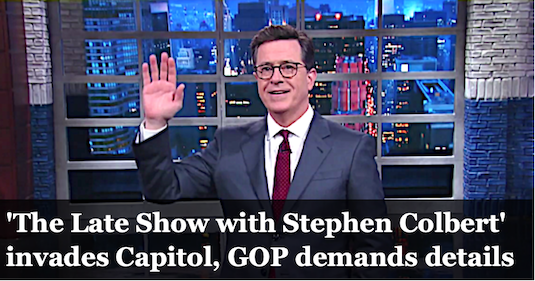 Like the Media Research Center, WorldNetDaily hates Stephen Colbert enough to be gleeful that several of his staffers were arrested for allegedly being in a Capitol office building without authorization. But Bob Unruh took it to a new level in a June 21 article portraying comedy show writers filming skits as being just like the right-wing Capitol insurrection:
Hundreds of protesters were arrested for being in the U.S. Capitol on Jan. 6, 2021, without authorization. Democrats have claimed their actions were an attempt to overturn the government of the United States, and many of the apparent trespassers remain in jail – more than a year after the fact – on what ordinarily would be considered minor charges.

Now a team of employees of leftist entertainer Stephen Colbert have been caught in the same predicament – being in the Capitol without authorization.

And GOP members of Congress are insisting that Capitol police provide them with all the reports, witness statements, surveillance footage and photographs concerning the arrests.

"These individuals were arrested and charged with unlawful entry after causing 'disturbances' at the offices of several Republican members, including 'banging' on their office doors," the letter to the police agency from Reps. Jim Jordan, R-Ohio, and Rodney Davis, R-Ill., said.

[...]

CBS officials said the crew was at the Capitol for authorized interviews with members of Congress.

However, Fox News said the crew members were arrested about 8:30 p.m. last Thursday in the Longworth House Office Building and charged with unlawful entry.

The report said they had, earlier in the day, done interviews with members of the Jan. 6 Select Committee, including Schiff, Rep. Stephanie Murphy, D-Fla, and Auchincloss, D-Mass.

But they didn't have the proper press credentials and were removed from the building.

[...]

"Much has been made lately about unauthorized access to House office buildings, including debunked Democrat allegations that Republican members led so-called reconnaissance tours of the Capitol Complex in advance of January 6," the letter said.

"Unlike the Democrat allegations of reconnaissance tours, however, the events on June 16 actually resulted in arrests for unlawful entry," the Republicans wrote.
Of course, Unruh is quite delusional if he thinks that filming comedy skits without authorization is exactly the same as invading the Capitiol with the intent of murdering the vice president to keep him from authorizing the resuults of an election that Donald Trump (still) can't admit he lost.
WND was just like the MRC, though, in censoring the fact that all charges against the Colbert staffers were being dropped a month latert because they didn't "invade" the building as Unruh suggested but, rather, were legally let in by a congressional aide. Apparently, following up on a story that didn't turn out the way he wanted was a skill Unruh lost when he turned his back on real reporting to make a career out of right-wing hackery.
Posted by Terry K. at 4:09 PM EDT