MRC Claims YouTube Is 'Censoring' Gabbard (By Making You Click A Button First)
Topic: Media Research Center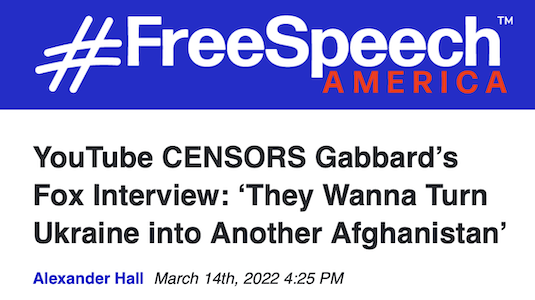 Like its "news" division CNSNews.com, the Media Research Center has always had a soft spot for Tulsi Gabbard as a Fox News Democrat who would appear on the channel for saying Fox News-friendly things while pretending to be a Democrat. In 2019, it came to Gabbard's defense after Hillary not-inaccurately called out her pro-Russia leanings.
Gabbard's embrace of right-wing social media earned the MRC's approval as well. Last August, Alec Schemmel touted her as among the "thought leaders" joining right-wing video site Rumble, and a December post by Gabriela Pariseau hyped right-wing radio host Dan Bongino listing Gabbard as a "liberal Rumble user."
So when Gabbard got in trouble again for her pro-Russia leanings after Russia invaded Ukraine, the MRC was more than happy to turn her into the latest "victim" of "big tech." Alexander Hall did exactly that in a March 14 post under the headline "YouTube CENSORS Gabbard's Fox Interview: 'They Wanna Turn Ukraine into Another Afghanistan'":
YouTube labeled a Fox News interview featuring former Hawaii congresswoman Tulsi Gabbard as being potentially "offensive" or "inappropriate."

Since when is calling for peace inappropriate?

Ingraham Angle host Laura Ingraham asked Gabbard in an early March interview, "Congresswoman, why are we talking about no-fly zones instead of the fact that for the first time we have President Zelensky stepping back from his earlier NATO wishes and even demands?"

Gabbard indicated shock that few people are discussing a statement by Zelensky on ABC News that "he's open to the fact of saying, 'Hey, yeah, maybe we'll set this NATO membership thing aside,' and he's willing to talk with Putin directly to negotiate."
Hall went on to complain that YouTube "slapped the Fox News video with two layers of censorship" -- none of which are actually censorship since the video could still be watched on YouTube; it simply put filters on it for viewers to click through. Hall also hid the fact that Gabbard used her fox News appearance to effectively demand that Ukraine capitulate and unconditionally surrender to Russian demands over NATO in order to stop the war,though there's no guarantee Vladimir Putin would do so even after getting what he wanted.
Hall devoted a March 17 post to letting Gabbard whine about being a victim:
Former Democratic Rep.Tulsi Gabbard of Hawaii skewered Big Tech for having "CENSORED" an interview of hers where she criticized Western interference in Ukraine.

"YouTube/Google are offended by my criticism of the Military Industrial Complex and my advocacy for negotiated settlement in Ukraine, because they are the social media arm of that warmongering Power Elite/MIC," Gabbard explained in a March 16 tweet. Her tweet features a video of an internet user having to go through several complicated steps to see anIngraham Angle interview with Gabbard.

[...]

YouTube smeared the Fox News video with two censorship filters: one suggesting that "This video may be inappropriate for some users," requiring viewers to click or even sign in to verify their age, according to Gabbard's video. Another filter claimed "the following content has been identified by the YouTube community as inappropriate or offensive to some audiences."
What's so "complicated" about clicking through a couple (non-censorship) filters? Hall doesn't explain.And given the MRC's support for Florida's "don't say gay" law, it's nonsensical for Hall to demand that age restrictions be lifted on a video that discusses the bloody business of war and goes into paranoid rantings about the "Military Industrial Complex."
Hall's manufactured victimhood for Gabbard resumed in a March 24 post:
At it again? Former Democratic presidential candidate and Hawaii Rep. Tulsi Gabbard torched Big Tech companies, saying she was censored again for cautioning against the U.S. going to war.

Fox News's Ingraham Angle host Laura Ingraham asked Gabbard in a late March interview: "Why is calling out what many have called the Military Industrial Complex now offensive to Big Tech?" Gabbard acknowledged that a previous interview of hers was censored with multiple filters, but also said she was censored yet again: "Just before coming on your show today, I found out that Instagram, which is owned by Facebook, is also suppressing my voice." She said her reach on the platform for that particular post shrunk by approximately 90 percent.
Like CNS before him, Hall didn't mention that Gabbard's Instagram traffic drop coincided with Instagram being banned in Russia, where Gabbard had an audience for her pro-Russia, anti-Ukraine rantings, which seems relevant.
A few weeks later, when Russian TV argued that Gabbard should be Donald Trump's running mate in 2024, the MRC remained silent.
Posted by Terry K. at 10:28 PM EDT
Updated: Friday, April 22, 2022 12:45 AM EDT