CNS Sneers At Biden During State of the Union Address
Topic: CNSNews.com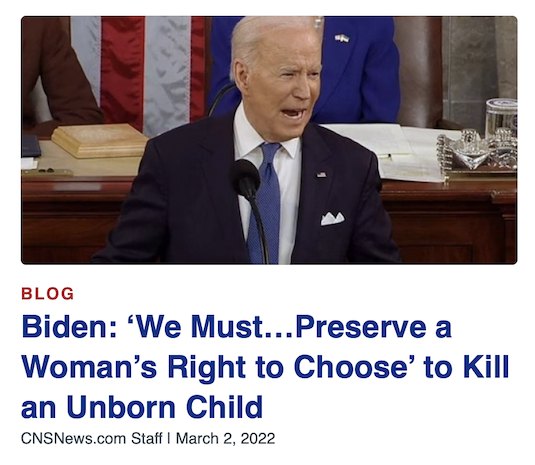 Cherry-picking quotes to portray President Biden as senile was only one part of CNSNews.com's coverage of his State of the Union address -- it was highly critical and largely dismissive all around.
That tone started in a March 1 preview of the address, in which Susan Jones dismissively wrote: "In his State of the Union address tonight, President Joe Biden 'will absolutely use the word 'inflation,'' White House spokeswoman Jen Psaki told reporters on Monday." Another preview article by Jones started by quoting a Democrat saying nice things, then quickly pivoted to spouting Republican talking points:
A number of Republicans are urging President Biden to sanction Russia's energy sector -- to stop its oil and gas exports, including those to the United States.

They say Biden should remove the restrictions he imposed on U.S. energy production to make the United States energy independent, even a net energy exporter, as it was just a few years ago.

At the moment, the Biden administration has exempted Russia's lucrative energy exports from U.S. sanctions.
And that was just the start of the pre-emptive attacks on an address that had not yet been given:
Melanie Arter wrote: "As President Biden prepares to deliver his State of the Union address, many are wondering what the president will say. For Rep. Kat Cammack (R-Fla.), one word comes to mind – 'bloviate.'"
Emily Robertson wrote that "President Joe Biden's State of the Union address 'will not be a unifying or bipartisan speech and will not focus on the issues that the American people really need and are looking for him to address,' said Republican National Committee (RNC) Chairwoman Ronna McDaniel during a media call on Monday."
CNS began its coverage of the actual address with surprisingly straight reporting on what Biden said:
Then it was time to put out more Repuiblican talking points, as demonstrated by Jones:
Of all the sanctions the United States has imposed on Russia and its president, penalizing Russia's oil and gas sector is not among them.

The United States continues to buy gas from Russia, despite calls from Republicans to stop paying for Russian gas as President Putin wages war against democracy in general and Ukraine in particular.

In his state of the Union Address Tuesday night, Biden did not mention U.S. oil production, but he did mention climate change. And he noted that "so many families are...struggling to keep up with the rising cost of food, gas, housing, and so much more."
Jones followed that with an article devoted to one Republican's attacks on the address as "devoid of all reality of what is happening in the United States." Managing editor Michael W. Chapman, on the other hand, found a liberal columnist who complained that Biden didn't mention black people in his speech. There were no articles praising Biden.
Then there was a raft of anonymously written article cherry-picking varioius statements Biden made -- even though a comprehensive article that a CNS reporter would have been willing to put a byline on would have been more journalistically sound -- designed to fixate onthings right-wingers could exploit:
Speaking of that last item, abortion-obsessed editor Terry Jeffrey made sure to put his own slant on a post-address article:"After delivering a State of the Union Address on Tuesday in which he advocated for "a woman's right to choose" to abort her unborn child, President Joe Biden attended Mass on Sunday at St. Joseph on the Brandywine Catholic Church in Greenville, Del." Jeffrey likes to lord his supposedly superior Catholicism over Biden.
Posted by Terry K. at 1:49 AM EDT