MRC Sports Blogger Mocks Team On Wrong End Of Needlessly Lopsided High School Game
Topic: Media Research Center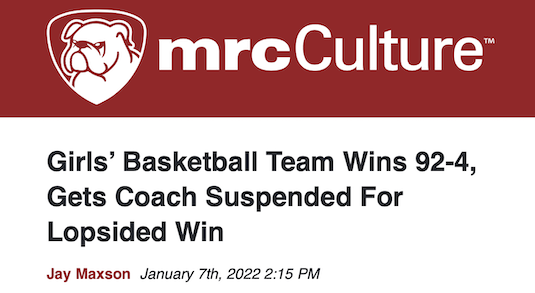 Who has two thumbs and loves poor sportsmanship on the high school level? This guy (or gal): the Media Research Center's Jay Maxson, who devoted a Jan. 7 post to complaining that a high school girl's basketball team was criticized for needlessly stomping an opponent 92-4 -- and to mocking the losing team:
What happens when one high school girls' basketball team comes to compete, and the other team doesn't? If you are the head coach of the first team, and your squad wins in a wipeout, you are scapegoated and suspended for a game. We've seen this sort of ridiculous thing before when a sports team is severely punished for achievement, and it's never a pretty outcome.

Sacred Heart Academy, undefeated and ranked third in Connecticut, took a first-quarter lead of 29-0, and it was 56-0 at halftime. By the end of the end of the third period, it was 80-0, and it ended 92-4. Coach Jason Kirck will sit out the next game because his last opponent, Lyman Hall High School, sucks at hoops.

[...]

In other words, Sacred Heart, the next time you play Lyman Hall, leave your "A" Game at home.
Maxson didn't mention that Connecticut high school sports standards state that "Coaches will be aware of the competitive balance of contests and will manage the score in a manner that is sportsmanlike and respectful of opponents." Instead, he (or she) continued to pile on, Sacred Heart style:
The Lyman Hall coach went on WFSB-TV and accused his rival of "unsportsmanlike" conduct and running up the score.

Pressing is Sacred Heart's game, but if another team repeatedly can't get back quickly enough to stop the fastbreak, that's on them. Furthermore, how can a school employ a coach who can't prepare a team any better than this? It sounds like Coach Lipka got a get-out-of-jail card for not being a good coach.

Sports teach character and painful lessons as well, and coaches who complain about lop-sided losses sometimes need to look in the mirror and blame themselves for their team's bad performances. Other coaches need to yank their starters sooner when a blowout becomes inevitable. Just blaming the winning side doesn't seem right.
If you're up 56-0 at halftime, there's absolutely no need to spend the rest of the game continuing to press for the sole purpose of running up the score.And there's absolutely no reason to leave starting players in until the fourth quarter, as Sacred Heart apparently did.
The fact that Maxson thinks poor sportsmanship is a good thing tells you all you need to know about the MRC.
Posted by Terry K. at 10:53 AM EST