CNS Gives Discredited D'Souza A Platform
Topic: CNSNews.com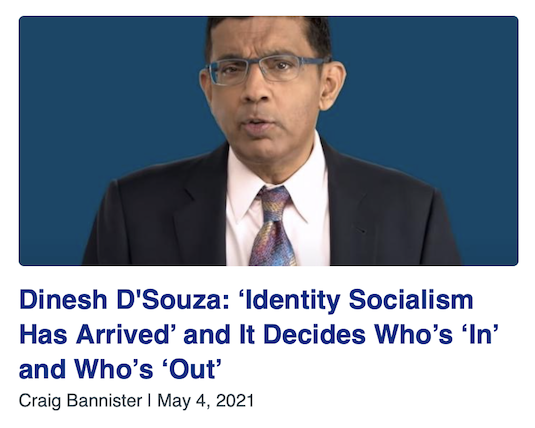 Craig Bannister gives Dinesh D'Souza a plug in a May 4 CNSNews.com article:
Identity socialism has taken hold of America by dividing people based on identity groups and creating new classes of heroes and villains, conservative Author and Filmmaker Dinesh D'Souza explains in a PragerU video.

In his video titled "What Is Socialism?" D'Souza says that identity socialism promotes division by defining who is "in" and who is "out" in American society:

[...]

Identity socialism has employed a long-term strategy to perpetuate itself, D'Souza says. By turning radical students into radical professors who teach its ideology to impressionable students, Identity Marxism could permeate American society to the point that "Even big business, the hated capitalist class itself, would succumb":
Bannister offered no balanced, opposing view to D'Souza -- which means he failed to tell readers that D'Souza has a well-documented history of being wrong on so many things, to the point that historian Kevin Kruse effectively has an unpaid part-time job debunking D'Souza's numerous falsehoods. Because he's hiding the truth about D'Souza, Bannister also doesn't explore how it reflects on PragerU to give a fabulist like D'Souza prominence as one of its so-called educators.
Bannister is acting as a PR person for D'Souza and PragerU -- not a journalist. That's not a good look for an organizaiton that insists on calling itself "news."
Posted by Terry K. at 1:20 PM EDT