Sore Losers: MRC Can't Stop Lashing Out At Warnock As He Wins Ga. Senate Runoff
Topic: Media Research Center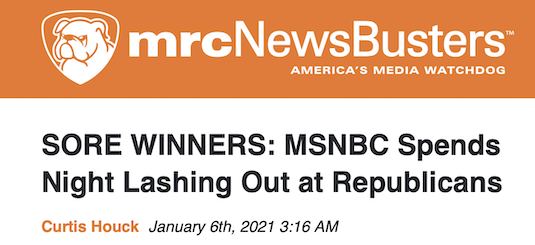 We documented how the Media Research Center served as opposition research for Georgia Republicans in the Senate runoff races there through relentless attacks on one of the Democratic candidates, Raphael Warnock. (Is that even legal under the MRC's nonprofit tax status?) The attacks on Warnock continued on Jan. 5, the day of the election.
Gabriel Hays sneered at Atlanta hip-hop artists turning out for the Democratic candidates, but in a more jerkass way than MRC "news" division CNSNews.com did:
Atlanta, Georgia, the "Mecca of Hip Hop'' will be using its greatest cultural export in order to usher in a future of one party Democrat rule for our nation.

Even though African Americans need only open their eyes to see the disasters that the Democrat government has afforded them in cities like Chicago and Baltimore, pillars of their rap community like rapper Jeezy, Killer Mike and 2 Chainz have been performing at and hosting events aimed at turning out the vote for far-left U.S. Senate Candidates Raphael Warnock and John Ossoff.

[...]

Why would the majority African American hip hop scene want the same party that oversees a city with "virtually the same murder rate as Chicago" in 2020, to wield major power over the whole nation. And to think that much of the Democrat [sic] Party is thinking that less police is a productive solution to such problems. Seems pretty counterintuitive.
Clay Waters complained that the New York Times was "feverishly promoting both Democratic runoff candidates ... especially Warnock, while lobbing accusations at the Republicans." Tim Graham similarly whined: "The Washington Post explicitly advertised for Rev. Raphael Warnock's Senate candidacy in a splashy profile on the front of Monday's Style section. There was a huge picture of Warnock with the sun shining off his face." Both Waters and Graham portrayed the respective news articles they were attacking as free ads for Warnock -- even though the MRC's negative attacks are effectively free ads fort he Republican oppoents to Warnock and fellow Democrat Jon Ossoff, David Perdue and Kelly Loeffler.
When Warnock ended up winning over Loeffer (and Ossoff won over Perdue), the MRC didn't take it well. A Jan. 6 post by Kristine Marsh complained that "analysts and reporters echoed each other in hailing Democrat Raphael Warnock's win as a rejection of Republicans' racist messaging," which tried to make him a "scary black man." Marsh offered no factual rebutal of the claim other than to huff that "If there's one thing you can count on, it's that the media will never stop crying 'racism' anytime a black Democrat is challenged on their policies."
Also in a complaining mood was Curtis Houck:
Despite Tuesday night showing a Democratic sweep in the Georgia Senate runoff election, the mood on MSNBC was anything but joyous. Instead, various hosts and panelists threw a pity party for fellow leftists, bemoaning supposed Republican voter suppression efforts and insisting Republicans should be shamed from political life as un-American racists who won't win another presidential election.

[...]

Taken all together, let this be yet another reminder that, even when they get what they want, liberals and progressives will always be fundamentally unhappy people.
As if he and the rest of the MRC haven't been fundamentally unhappy over the past four years in attacking any perceived enemy -- even their own fellow conservatives -- on Trump's behalf.
Kyle Drennen's complaint was eerily similar, as if there was a narrative to which the MRC was directed to adhere:
On Wednesday, anchors on all three network morning shows couldn't contain their joy over radical left-wing Democrat Raphael Warnock winning Tuesday's Georgia Senate runoff, with each broadcast treating him to a fawning softball interview. Rather than press him on his history of incendiary comments, scandals, or far-left ideology, the hosts gushed over the Atlanta reverend's victory being a "political earthquake" that reflected the "kind spirit of Dr. Martin Luther King."

[...]

Again, none of the network's bothered to ask a single challenging question of the newly elected Democratic senator or press him on his party's leftist agenda.
Warnock even got the podcast treatment on Jan. 6, where "Executive Editor Tim Graham explains how the national newspapers and networks haven't so much covered Senate candidate Raphael Warnock as covered up for him. They only wanted voters to know he was the second coming of Martin Luther King, Jr, and he was 'no radical.'"
Posted by Terry K. at 8:49 PM EST