CNS Joins MRC Parent In Attacking Warnock
Topic: CNSNews.com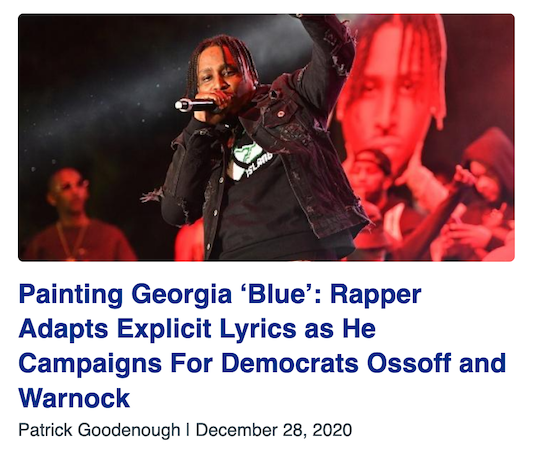 Following in the footsteps of its Media Research Center parent, the MRC's "news" division, CNSNews.com, also went on the attack against Democratic Georgia Senate candidate Raphael Warnock.
CNS managing editor and Franklin Graham fanboy Michael W. Chapman repeated Graham's attack on Warnock over abortion, declaring that he "champions the killing of babies in the safety of a mother's womb through abortion." In a Dec. 7 article, Patrick Goodenough returned to the issue, highlighting how "the contrast in their views on abortion was on full display" in TV appearances by Warnock and his Republican opponent,Kelly Loeffler -- but, unusually, he did fact-check Loeffler by noting that she falsely claimed that Warnock invoked the Bible when defending a woman's right to choose (but, in more typical CNS style, this wasn't the headline claim). Two days later, though, Craig Bannister hyped right-wing activist Alveda King's claim that "I wish Rev. Warnock would read the Bible for real" on the subject of abortion.
A Dec. 16 article by Goodenough featured right-wing attacks on Warnock and Jon Ossoff, the Democrat running for Georgia's other Senate seat, claiming that "ceding Republican control of the Senate would pave the way for an agenda of creeping socialism, Supreme Court packing, and attacks on religious freedom." On Dec. 21, Goodenough took offense to Warnock's claim thatAmerica was not only fighting COVID-19 but systemic racism, which he called "COVID-1619." Goodenough ramped up the prudishness over rappers supporting Warnock and Ossoff in a Dec. 28 article:
An Atlanta rapper whose sexually-explicit lyrics leave nothing to the imagination campaigned on behalf of Georgia Democratic Senate hopefuls Jon Ossoff and Reverend Raphael Warnock on Monday, urging voters to "paint Georgia blue" and "get both of those Senate seats."

Performing at a campaign drive-in concert in the parking lot of the New Birth Missionary Baptist Church in Lithonia, Ga., BRS Kash changed the title of his song, "Throat Baby" to "Vote Baby," and adapted some of the other lyrics.

"I love the way you walk, love the way you talk, Let a young n**** come play in your throat," became "I love the way you walk, love the way you talk, let's all go walk to the polls."

After performing, BRS Kash said, "Hey if you wanna make a change, early election has already started. I need everybody to go vote by January 5. We need to paint Georgia blue, we need to get both of those Senate seats. So I need everybody to go vote for Jon Ossoff and Reverend Warnock."

The lyrics of "Throat Baby" are too graphic to reproduce here, but include offensive terms for women and blacks, along with explicit references to sexual activity, genitalia, and bodily fluids.
Chapman returned on Dec. 30 for more fanboying over Graham, regurgitating his claim that "the soul of the nation is at stake" in the Georgia runoff election.
Posted by Terry K. at 12:23 AM EST