MRC Is Mad NY Times Made A Headline More Accurate
Topic: Media Research Center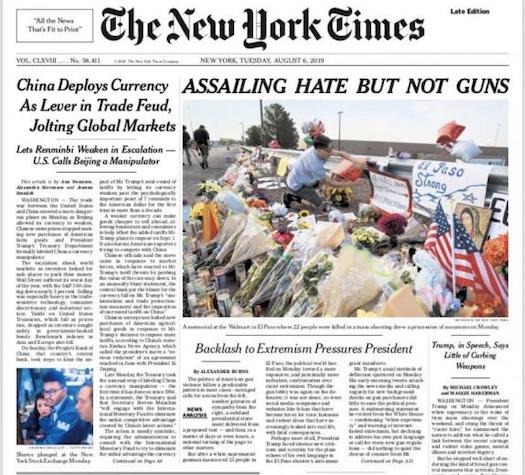 As part of its narrative-invoking coverage of the aftermath of the El Paso and Dayton massacres, the Media Research Center had a meltdown over a headline.
Following President Trump's speech following the massacres, the first edition of the print edition of the New York Times carried a front-page story about it with the headline "Trump Urges Unity Vs. Racism." But for the second print edition the headline was changed to "Assailing Hate But Not Guns." Never mind that it's hardly unheard of for newspapers to alter headlines between editions (not that anyone at the MRC would know that, since so few of them have ever worked for the type of news operation they attack every day) -- the MRC smelled conspiracy. Never mind that the second headline is arguably more accurate because it reflects Trump's failure in his speech to mention anytring about guns, though more than 30 people were shot to death in those massacres.
Clay Waters ranted that the Times succumbed to "left-wing Twitter pressure" by changing the "accurate" headline to something more "Trump-skeptical" (which Waters doesn't deny is also accurate). This was an "ignominious retreat," Waters insisted.
Needless to say, MRC chief Brent Bozell was compelled to rant as well, and he ran to Fox Business for an easy platform to do so. The "hard left" that allegedly forced the Times to change the headline is "clearly out of control," Bozell huffed, forcing the times to move away from a headline that told "the truth" even though it went "against" their alleged anti-Trump narrative. Of course, Bozell has an anti-media narrative that he gets paid well to promote. And foer good measure, Bozell shouted down a rare liberal panelist by putting words in his mouth.
Bozell also agreed with a Fox Business correspondent that the new headline was "fake news," sneering that "the left has so much power that they can change truth in a newspaper like The New York Times." He offered no evidence that the new headline wasn't true or had anything "fake" in it.
(In a fit of corporate synergy, Bozell's rant also got summarized at his "news" division, CNSNews.com.)
Waters returned the next day to claim that Times executive editor Dean Baquet was on an "apology tour" over the headline change in which the paper "caved" to "a left-wing social media mob." Once again, Waters insisted that the original headline "did reflect what Trump said accurately" while refusing to admit that the new headline is also accurate. Waters also attacked the paper's alleged "leftist readership" who is "slavering for a constant supply of anti-Trump red meat" -- as if Waters wasn't catering to the MRC's right-wing readership slavering for a constant supply of anti-media red meat.
But Waters still couldn't let it go, beginning another post attacking the Times for something else by referencing the headline controversy: "The New York Times has learned its lesson on front-page headlines, making sure it injected plenty of anti-Trump context to lead its Thursday edition, after being vilified by the left for insufficient hostility toward Trump (and quickly changing a banner headline) on Tuesday."
At the MRC, the narrative is all, and the Times has always been a target. Let's not pretend it cares about journalism.
Posted by Terry K. at 12:55 AM EDT
Updated: Thursday, August 22, 2019 6:14 PM EDT