Mark Judge Worked For MRC Even Longer Than We Thought
Topic: Media Research Center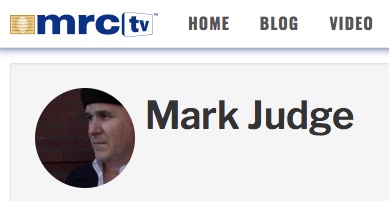 Earlier today, we documented the nearly complete failure of the Media Research Center to disclose that Mark Judge, the alleged witness to his prep-school drinking buddy and Supremen Court nominee Brett Kavanaugh's alleged sexual assault on Christine Blasey Ford, worked as a "blog reporter" for the MRC's "news" division, CNSNews.com, for a year and a half. But there's an even deeper Judge connection the MRC has been silent on.
A few months after departing CNS, Judge was back to write blog posts for the MRC's video-centric operation MRCTV. Judge wrote for MRCTV beginning in April 2017 , and his final post was on Sept. 13 of this year -- just a few days before Ford's accusations against Kavanaugh and citing Judge's involvement in the incident.
As Media Matters documented, a few of Judge's MRCTV posts reflect his history of bigotry and borderline misogyny. For instance, Judge mocked comedian Amy Schumer as "big-boned Barbie" in a May 2017 post.
Judge is also clearly not fond of the LGBT community. On July 24, he ranted about a Broadway play that he portrayed as "a lecture from transgenders" and speculated that there is no such thing as a "straight white playwright." Another Judge post positively reviewed a book he said claimed that "the modern transgender phenomenon and its defenders share a similar mentality to that which produced Nazi Germany."
Interestingly, while every other MRC operation has been loath to admit that Judge worked for it, two of the four MRCTV's posts referencing Judge in relation to Kavanaugh as of this writing (though not the two written in the past day) not only disclose that "Mark Judge is a freelance writer who has written pieces for MRCTV," they link to Judge's MRCTV archive. Did someone down the hall corral the MRCTV folks and remind them of the Judge omerta?
Meanwhile, the omerta continues at the rest of the MRC. A Sept. 27 MRC post by Kyle Drennen mentioned Judge in passing but not his work for the MRC. And a Sept. 27 CNS article by Susan Jones attempting to undercut Ford's veracity by highlighting her Senate testimony that she "said hello" to Judge at his job at a grocery store parentically noted that "For the record, Judge has written about his drunken/hungover high school years" but didn't disclose, parenthetically or otherwise, that Judge wrote for the MRC for more than three years.
Posted by Terry K. at 9:47 PM EDT
Updated: Thursday, September 27, 2018 9:54 PM EDT