WND Goes Easy on Trump In Magazine Issue on Sexual Harassment
Topic: WorldNetDaily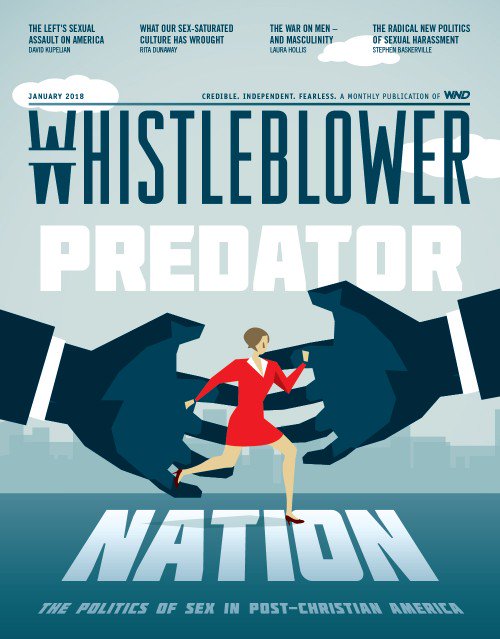 The new issue of WorldNetDaily's sparsely read (if it had a significant readership, WND would never let us hear the end of it) Whistleblower magazine is about sexual harassment, and WND claims it "not only exposes the entire iceberg – it also points the way back to moral sanity."
But it looks like that, according to its promotion, it's trying to conceal a good portion of it. Here's the introduction:
Sex. It's the sacred entry point for human life into this world, yet it frequently appears in the form of grotesque criminality. As such, sexual abuse has become the focal point for one of America's most sensational mega-stories over the last year.

The story – actually a never-ending torrent of reports implicating almost 100 different men since accusations against Hollywood producer Harvey Weinstein surfaced in October – chronicles an epidemic of prominent men allegedly using their power and authority to seduce, manipulate, bribe, bamboozle, intimidate, coerce and physically force women into sex.

Beyond Weinstein (accused of sexual abuse by 84 different women), the alleged offenders range from entertainment icons like actors Dustin Hoffman (8 accusers) and Kevin Spacey (15 accusers), comedian Louis C.K. (5 accusers) and director/screenwriter James Toback (38 accusers) to news media big shots like CBS/PBS host Charlie Rose (8 accusers), NBC "Today" anchor Matt Lauer (7 accusers), MSNBC's Mark Halperin (12 accusers) and New York Times White House reporter Glenn Thrush (4 accusers) to U.S. Appeals Court Judge Alex Kozinski (6 accusers) to Metropolitan Opera conductor James Levine (4 accusers) to New Orleans-based TV chef John Besh (25 accusers) to – of course – politicians including Rep. John Conyers (6 accusers), Sen. Al Franken (8 accusers) and many others. Indeed, it was recently revealed that millions of taxpayer dollars have been quietly doled out to settle harassment claims against members of Congress in recent years.
Notice anything about that list? Nearly all of them are eitherconsidered political liberals or in entertainment (and, thsu presumbed to be liberal). The only apparent conservative on the list is Kozinski, who was appointed to the appeals court by President Reagan. Somehow, WND didn't see fit to mention, for instance, any of the numerous hosts and executives at Fox News who have been accused of sexual harassment.
The promotion does get around to noting that conservatives -- and President Trump -- have been accused, but WND is eager to gloss over that inconvenient fact with a quick Clinton Equivocation:
Notably, the vast majority of those implicated over the last few months are on the political left, though at least one – former Alabama Supreme Court Chief Justice Roy Moore (8 accusers), a conservative Christian – narrowly lost December's Senate election because of decades-old sexual allegations against him, one involving a 14-year-old girl. And of course, multiple women have accused President Donald Trump of having committed various sexual improprieties over the years.

[...]

For example, Juanita Broaddrick credibly accused Bill Clinton of forcible rape, a heinous crime once punishable in the U.S. by death. At the other end of the spectrum, 2006 Miss USA contestant Samantha Holvey told CNN that the pageant's then-owner, Donald Trump, "personally inspected each woman" beforehand and would "step in front of each girl and look you over from head to toe like we were just meat, we were just sexual objects, that we were not people." Unseemly, perhaps, but there's a world of difference between He raped me and He looked at me like a piece of meat.
WND managing editor David Kupelian's magazine essay on the subject, published at WND on Jan. 29 and hyperbolically titled "The left's ongoing sexual assault on America," plays the same game; the above promotion excerpt is actually the beginning of his essay. But Kupelian never mentions Trump -- or any other conservative recently accused of sexual harassment (he references Bob Packwood but doesn't mention that he was a Republican) -- at any other point. Instead, it's a version of his usual liberal bashing harangue, ranting that "The left, which has been obsessed with removing Judeo-Christian morality from our schools, culture and minds for several generations, now claims to be shocked – shocked – at the inevitable excesses and crimes they themselves have brought about."
Meanwhile, Kupelian has published the same old attacks for years, and is presumably shocked -- shocked -- that the website he runs with Joseph Farah is going down the tubes. He doesn't seem to get that maybe his content -- and, more specifically, that he refuses to hold conservative sexual harassers to the same scrutiny and scorn as non-conservatives -- is a big part of the problem.
Posted by Terry K. at 12:54 AM EST
Updated: Wednesday, January 31, 2018 1:21 AM EST