CNS Managing Editor Censors Trump's Frederick Douglass Faux Pas
Topic: CNSNews.com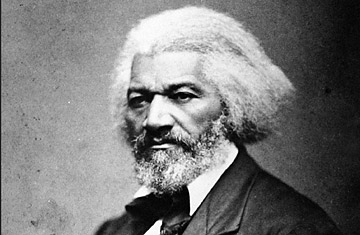 CNSNews.com managing editor Michael W. Chapman couldn't have been prouder to be a Trump shill than he was in a Nov. 3 "news" article:
Although completely ignored by the major news networks, President Donald Trump signed into law on Thursday legislation to establish the Frederick Douglass Bicentennial Commission, which will make plans to honor the 200th anniversary of the birth of Frederick Douglass (1818-1895), a slave who escaped to freedom and became a leading orator, abolitionist, writer, publisher, and statesman.

Douglass was a Republican who often criticized the slavery-supporting Democratic Party.

[...]

"Our Nation rightly honors the life of Mr. Douglass, a former slave who became an outstanding orator and a leader of the abolitionist movement," said President Trump. "I also welcome the participation of the members of the Congress in the valuable work the Commission will perform."

"… All Americans have much to learn from the life and writings of Mr. Douglass," said President Trump, "and I look forward to working with the Commission to celebrate the achievements of this great man."
So proud was Chapman of Trump's achievement in signing a bill to honor Dougless that he completely ignored the fact that Trump once thought Douglass was still alive.
In Febraury, Trump blathered his way through a Black History Month event by saying, "Frederick Douglass is an example of somebody who's done an amazing job and is getting recognized more and more, I notice" -- implying that he thought Douglass was a living person.
Chapman is surely aware of this; his website published an Associated Press article about the event noting that Trump's comments "drew immediate backlash on social media from critics who perceived it as a reference to a still-living Douglass."
Rather than remind readers of the relevant history of a faux pas made by the president for whom his "news" operation has become a servile stenographer, Chapman focused instead on detailing Douglass' religious leanings.
In other words, Chapman is censoring from his readers facts he thinks will harm his president. Is that what the managing editor of a real "news" operation does? Nope.
CNS, by the way, will trash even Frederick Douglass if doing so serves its agenda. And it apparently did in a Nov. 22 column by the Catholic League's Bill Donohue that's a long diatribe against Douglass and his "anti-Catholic bigotry," which he then turns into a thing about not tearing down "the monuments and markers of American icons.," adding: "Finally, nothing I have said should be read as a plea to remove the statue of Frederick Douglass from Central Park. It should stay."
Um, has that statue of Douglass been an issue? Not that we're aware of. Donohue was obviously alluding to questions about statues honoring Confederate generals, but he misses the obvious fact that they were not "American icons"; they fought a war against America.
Posted by Terry K. at 1:40 PM EST