Brazile Gives WND An Excuse To Push Seth Rich Conspiracy Theories Again
Topic: WorldNetDaily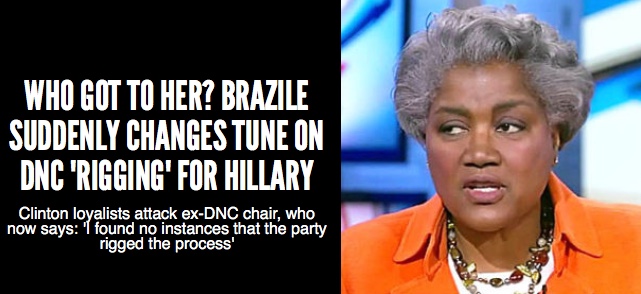 The recent controversy regarding Donna Brazile's new book gave WorldNetDaily all the excuse it needed to rehash one of its favorite (and discredited, not that they'll admit it) conspiracy theories, the death of Seth Rich.
Chelsea Schilling ran with it in a Nov. 6 article with all the drama she could muster:
It was just a botched robbery, they said.

Move along, there's nothing to see here, they said.

Quit being paranoid and assuming there's some conspiracy behind the random murder, they said.

So, if it were merely a botched robbery that killed DNC data staffer Seth Rich, why in the world would the former interim chair of the Democratic National Committee fear for her life, believing snipers might shoot and kill her after the mysterious murder of Rich?

In Donna Brazile's upcoming book, "Hacks: The Inside Story of the Break-ins and Breakdowns That Put Donald Trump in the White House," she writes about her fears following the July 10, 2016, unsolved murder of Rich. In fact, she dedicated the book to Rich, whom she calls a "patriot."
The next day, when Brazile changed her story on a claim regarding purported "rigging" of the Democratic presidential primary by Hillary Clinton, the headline on Schilling's article about it conspiratorially blared, "WHO GOT TO HER?" Schilling also rehashed the Seth Rich stuff.
And when opportunistic troll Jack Burkman -- whose partisan exploitation of Rich's death WND has dutifully publicized -- trolled further by wanting to subpoena Brazile, WND's Alicia Powe was only too happy to give him a platform to proclaim that "Brazile knows the truth about Rich's mysterious death":
Brazile has provided incomplete information about what she knows, Burkman argues, but filing a lawsuit will force Brazile to say what she knows – under oath.

"If this were a random murder like police have maintained, why did Ms. Brazile fear for her own life?" he asked. "Brazile can clearly also offer critical information about what role the DNC [had in] Hillary Clinton's primary win."

"Brazile has openly admitted to liability in her book. She has admitted that she and others rigged the Democratic primaries in favor of Hillary Clinton. We are, therefore, expanding our complaint to include her.

"More importantly, she is now openly suggesting that the DNC may have killed Seth. Her comment that she felt compelled to draw her blinds and avoid the window is one of the most striking comments in modern American political history."
Of course, Burkman doesn't actually give a damn about Seth Rich as a person -- he only exploit Rich's death as a way to attack Democrats in general and the Clintons in particular, and for a perverse love of the conspiratorial. It's something he shares with WND, so they are perfectly matched in that perverse dysfunction.
Posted by Terry K. at 12:15 AM EST