WND Book 'Reviewer' Hypes WND Titles (And Has A Raging Case of Obama Derangement)
Topic: WorldNetDaily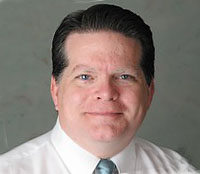 Developing biased right-wing-Christian conspiracy theories about a Christian bookstore chain going out of business isn't the only thing WorldNetDaily columnist Jim Fletcher has been up to lately. He's also back to his old tricks of serving as hype man for books published by the company that also publishes his column.
Fletcher's March 8 column focused on Carl Gallups' WND-published book "When The Lion Roars," gushing over it as "a thrilling look at a triumphant Messiah. The message of the book really resonates, precisely at a time when the world is in such chaos," as well as "an indispensable guide for navigating the crazy globe spinning out of control" and "proof some writers don't exhaust their talent with their first couple of books."
On March 10, Fletcher took on WND reporter Leo Hohmann's anti-Muslim book "Stealth Invasion" -- and by "took on," we mean that Fletcher totally slobbered over it. As if he was being paid to do so, Fletcher totally buys into Hohmann's hateful Muslim-bashing rhetoric:
Weak-kneed Washington establishment-types caved to Obama, and now that President Donald Trump is attempting to put the brakes on such immigration through what he calls "extreme vetting," he is being attacked on all sides, from clueless college students to seasoned political operatives and media hacks.

All this makes a new book by Leo Hohmann especially timely. "Stealth Invasion: Muslim Conquest Through Immigration and Resettlement Jihad" will make the hair stand up on the back of your neck.

And that's a good thing.

Too many Americans either want to stick their heads in the sand, or wring their hands over their perception that we must "welcome the stranger" no matter the cost. In actual fact, the demons of ISIS are already making their way here and will exist in sleeper cells until they determine the time is right to unleash jihad on Americans. Hohmann outlines this and much more in "Stealth Invasion."

[...]

I think we know what was going on within the Obama administration. Let's use common sense. Perhaps Trump can turn things around, but the fact is, we already have a jihadist presence on our soil, and it entered under stealth.

[...]

Wake up before it's too late! "Stealth Invasion" will help show you the way.

This is one of the most important books you'll read this year.
Needless to say, in neither column does he disclose that the books he "reviewed" were published by WND.
Fletcher also demonstrated he still has a raging case of Obama Derangement Syndrome in his March 3 column, in which he bitterly complains about Barack Obama's $60 million book deal. "Reports are that Barack and Michelle Obama will continue to use their taxpayer-funded lifestyle to enrich themselves," Fletcher huffed, apparently missing the part where the contract was between Obama and the book publisher and the complete lack of government involvement. And the derangement continued:
Obama has been a hardcore totalitarian ideologue his entire adult life. Michelle Obama is every bit the true believer her husband is.

[...]

The lavish vacations and endless other perks make the Obamas among the most shameless power couples in history, and that's saying a whole lot.

Look, we all understand that for one to ascend to the highest office in the land requires a healthy ego. The current one has that in spades. It's just the way it is. But what separates these leaders is the way they treat people. The Democrat Party mouths the right words in their perpetual "fight for the people," but it's a scam. In reality, the Dems have built a modern slave enterprise, dooming millions to lives of squalor, while the elites tax and spend and laugh all the way to the bank.

Or to their publishers.

[...]

Like all leftists, Penguin and their celebrity authors really do intend to change the world, and they're being successful. Along those lines, the publishing giant has also announced one million copies of the Obamas' books will be donated to First Book, a non-profit that "provides educational materials" to children in need.

In need of what – instruction in Marxism? I'm being serious. The book deal is yet another way Obama engages in community organizing, or rather, community enslavement. It's an interesting network he's built. Penguin will also give a "significant" number of books to the Obama Foundation. For those of us watching the corruption of the Clinton Foundation … well, you ain't seen nothin' yet.

The one saving grace is there are still many millions of Americans who hold to traditional American values, and who rose up in November and sent a message to Barack Obama:

Your legacy isn't worth the paper it's written on.
Fletcher really needs to seek some professional help for his Obama derangement.
Posted by Terry K. at 12:58 AM EDT