WND's Failed Gotcha Attack On NY Times For Doing What WND Does
Topic: WorldNetDaily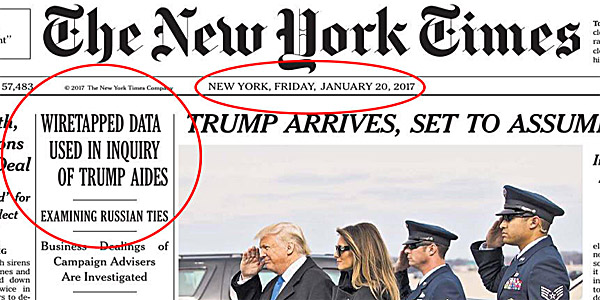 Bob Unruh sure thought he had a big scoop in a March 10 WorldNetDaily article:
The New York Times has removed the word "wiretapped" from the headline of a pre-inauguration story on data being used by the federal government to investigate aides to President Donald Trump.

The stunning move comes after Trump charged his campaign headquarters was wiretapped by the federal government, drawing criticism from longtime federal employees and Democrats.

The Times changed its headline from "Wiretapped data used in inquiry of Trump aides" to "Intercepted Russian communications part of inquiry into Trump associates." The text of the story still includes "wiretapped."
Unruh went on to quote Rush Limbaugh: "We've got a revised New York Times headline – sneaky, sneaky, sneaky – as they postdate-change the headline, wiping out the word 'wiretaps' and 'wiretapped' from their headline on a story January 20th."
You know who else sneakily issues major changes to articles after publication without telling readers? WND. Just five days before Unruh's article was published, we caught WND manufacturing a fake quote from former Attorney General Loretta Lynch, from which it quietly removed the quote marks several hours after publication.
WND quietly rewrote an article filled with false speculatlon in December, and in January it rewrote a false headline and published a Photoshopped picture of then-President Obama as real -- all without telling readers about the changes.
There was another reason Unruh's article was wrong -- but this time, for once, Unruh admits the correction in a editor's note:
Editor's Note: Rush Limbaugh posted a correction regarding the New York Times' headline after this story was published. It says: "After today's show we learned that the New York Times did not alter its headline. They say there were two headlines all along, one in the online version, and one in the print edition. The print edition used the word 'wiretapped' and the online edition never did. However, this does not change the premise that the story (Trump and Russians hacked the election) is waning in the MSM."

This WND story has been corrected to reflect that the change was made between the print version and the online version.
(The original is archived here for posterity.)
What Unruh did not do, however, is explain that this isn't a big deal. Newspapers regularly have different headlines for print and online editions of the same story, typically to reflect changes after publication but also because online headlines are not subject to the same constraints as a print headline. The Times itself explained that "To some degree, there's nothing new about changing headlines. Editors regularly tweak them in print for any number of reasons — updates, greater clarity, a change in the layout." The Times also said that it often tests two different headlines for the same story online to see which one attracts more readers.
So WND, with Rush Limbaugh's help, tried -- and failed -- to make an issue out of doing what WND itself regularly engages in, though it turns out that the Times wasn't doing that at all. Unruh didn't tell that to his readers either.
Posted by Terry K. at 12:22 AM EDT
Updated: Monday, March 13, 2017 12:57 AM EDT