WND, Which Loved Likening Obama To Stalin, Is Mad Some Likening Trump to Stalin
Topic: WorldNetDaily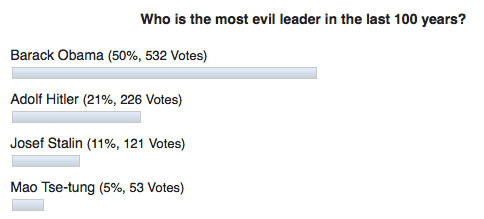 In a Nov. 16 article headlined "'Hitler' too tame, left characterizes Trump as Stalin," WorldNetDaily's Bob Unriuh com lained that the website Salon -- which is apparently "the left" now, since he cites no other example -- "called Trump's routine changes of staff a 'Stalinesque purge.'" He also repeated a complaint that "the Washington Post repeatedly compared Trump to Hitler."
Just as WND's protestations of Trump-Hitler comparisons are absurd because it enthusuastically likened Barack Obama to Hitler and other assorted Nazis, its protest of a Trump-Stalin comparison is equally absurd because, yes, WND made that comparison with Obama as well.
WND columnist Robert Ringer wrote a 2012 column unambiguously titled "OBAMA AND STALIN: HOW THEY'RE ALIKE." For example:
While reading Walter Laqueur's biography of Josef Stalin, I was struck by a couple of similarities between Stalin and Obama. Even though Stalin's life and personality were for very different from Obama's, there are a couple of important similarities between the two men. The most obvious one, which almost certainly laid the foundation for the hatred that was embedded in the souls of both leaders, was their extremely dysfunctional and unhappy childhoods.

A second similarity is their remarkable success in portraying themselves to be men of great character and morality, the exact opposite of who they really were/are. Stalin, much like Obama today, succeeded in carrying out a nonstop propaganda campaign in which he was portrayed to the public as the kindly "Uncle Joe," notwithstanding his ruthless murdering of tens of millions of his own countrymen.

[...]

Many of us picked up on Obama's lack of feeling and nonexistent humanity early on. In my article "Saul, Barack and me, Part 1," back in 2009, I wrote, "After a good deal of study and observation, my take on him [Obama] is that he is a man without a soul. And, as a soulless individual, his actions are not hampered by trivial moral considerations."

Thus, the one thing that I believe Obama definitely has in common with Josef Stalin is that he lacks compassion for others, be they rich or poor, while professing, like Stalin, to be the great defender of the working class.
Needless to say, Ringer offered no evidence that Obama was murdering Americans.
In 2011, WND cheered a gun manufacturer whose ad showed "side-by-side pictures of Obama with Hitler, Stalin and other dictators who committed atrocities across the world. A 2014 "news" article by Art Moore similarly touted how a California politician compared Obama "to some of the most reviled names in history," including Stalin, by claiming that he, like those "reviled names," supports "gun control" and not "gun rights." That was article was accompanied by a poll in which readers could choose "the most evil leader in the last 100 years." Obama won the poll, getting more votes than Hitler and Stalin combined.
Again: That's the readership of WND who thinks that, and WND caters to those readers.
More examples:
So, yeah, WND has proved itself yet again to be utterly craven and hypocritical.
(Oh, and before WND starts complaining that someone is likening Trump to fascists like Mussolini, it should remember that WND editor Joseph Farah already did that with Obama.)
Posted by Terry K. at 12:40 AM EST