MRC Pretends Trump Didn't Actually Threaten to Jail Hillary
Topic: Media Research Center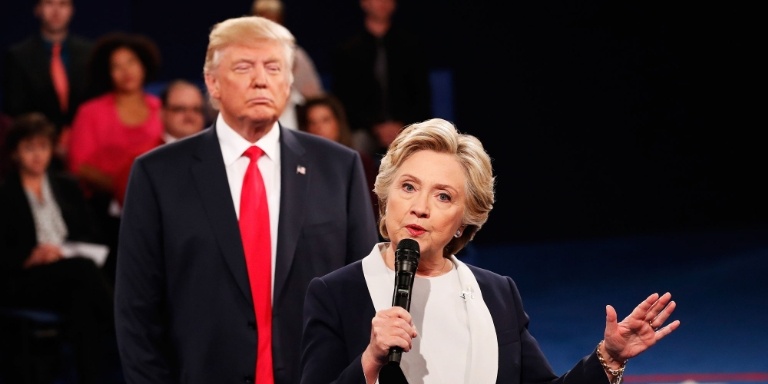 Donald Trump made a highly problematic statement during Sunday night's presidential debate, asserting that if elected he would appoint a special prosecutor to investigate Hillary Clinton's emails (despite the fact they have already been investigated). When Clinton noted that it's "awfully good that someone with the temperament of Donald Trump is not in charge of the law of our country," Trump retorted, "Because you'd be in jail."
To most observers, that looked like a plan for malicious prosecution and jailing of a political opponent, something usually seen in countries with authoritarian dictatorships. Which means the Media Research Center had to work extra hard to spin that away.
Nicholas Fondacaro went first, complaining that CNN 's Wolf Blitzer "falsely" said that Trump is "going to put her in jail if he's elected president of the United States," even though it's not an unfair reading of Trump's words. Fondacaro tried to spin even more pedantically:
CNN's Chief Political Analyst Gloria Borger described Trump's comment as Nixonian and falsely quoted Trump as saying ""I'd put her in jail."" Borger also took exception with Trump calling Clinton a liar and claimed that he called Clinton "the devil multiple times," even though he only called her the devil once. Borger and the panel went on to argue that these statements about Clinton are turning Trump off to voters, even though people don't think she's trust worthy.
Clay Waters followed by ranting in an Oct. 11 post that the New York Times "went way overboard fear-mongering over a quip Donald Trump made to Hillary Clinton during their debate Sunday night in "Pledge to Put Clinton in Jail Gets Experts Thinking of 'Tin-Pot Dictators.'" Waters groused: " the media (and some Republicans as well as Democrats) aggressively misrepresented it to liken Trump to a dictator. One wonders where this concern about careful rhetoric and the rule of law was when the left howled for war crimes tribunals for President Bush and Vice President Dick Cheney."
Waters then dismissed Trump's "jail" threat as merely "a throwaway line at a debate," then turned to right-wing writer Noth Rothman who insisted that Trump's threat was a "quip" that "was pretty unremarkable."
Posted by Terry K. at 9:46 PM EDT