MRC Loves Fox-Hosted Debate, Because Of Course It Would
Topic: Media Research Center
We've documented how the Media Research Center demanded that that Fox News right-wingers host Republican presidential debates and they got their wish -- which meant a lot of tongue-biting when Fox News' Megyn Kelly suddenly started acting like a real journalist and challenged the candidates. But then Fox Business was given a debate and it stuck to the GOP script and Brent Bozell was happy again.
Well, Fox Business got to hold another Republican debate. Since it knows who butters its bread, it again stuck to the GOP script and got its cookie -- er, praise.
Not that there wasn't a tense moment or two. MRC chief Brent Bozell tweeted at one point during the debate, "Again tonight, the Fox anchors are not avoiding the topics the liberal media would pick. Suggesting GOP is extreme, even."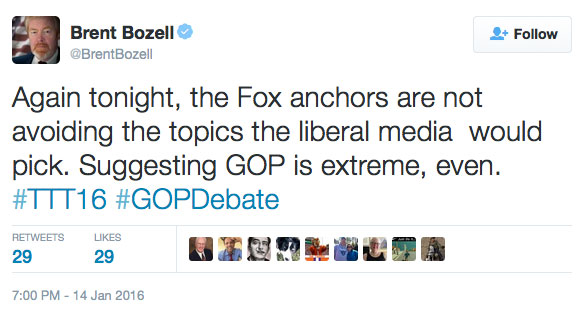 Bozell seems not to understand that if biased right-wingers are bringing up a "liberal media" issue, maybe it's not really a "liberal madia" issue.
But the Fox Business moderators more than made up for it by showing their right-wing bias. NewsBusters' Ken Shepherd cheered Maria Bartiromo's "great question" about Bernie Sanders, in reality a softball to set up right-wing talking points: "So what does it say about our country that a candidate who is a self-avowed socialist and who doesn't think a 90 percent tax rate is too high, could be the Democratic nominee?"
Meanwhile, Bozell and the MRC gave a complete pass to moderator Neil Cavuto bizarrely suggesting that the 2008 financial crisis started under President Obama, not Republican President George W. Bush.
Having thus pandered to the right-wingers, the Fox Business moderators got back into Bozell's good graces, dedicating three full tweets to slobbering over how well it went: "My congratulations to @TeamCavuto tonight....well done, my friend, well done. Yours was the best of them all tonight. It was riveting."
Bozell would like to keep appearing on Fox News and Fox Business, after all.
UPDATE: Bozell was undoubtedly happy that Ted Cruz went into media-bashing mode, dismissing a New York Times article exposing Ted Cruz's failure to disclose a campaign loan he received through Goldman Sachs as a "hit piece." So much so, we're guessing, that the MRC's Curtis Houck dutifully transcribed it while refusing to dispute any aspect of the Times story.
Posted by Terry K. at 2:53 PM EST
Updated: Friday, January 15, 2016 3:41 PM EST