WND's Ackley Laments Not Being Able to Tell Fat Jokes About Hillary Clinton
Topic: WorldNetDaily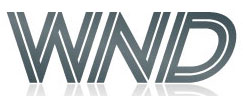 Michael Ackley's WorldNetDaily column begins with a disclaimer that they "may include satire and parody based on current events, and thus mix fact with fiction. He assumes informed readers will be able to tell the difference."
So what are we to make of his March 9 column, in which he starts out criticizing fat jokes, then moves to lamenting that you can't tell fat jokes about Hillary Clinton:
You don't hear anybody making jokes about Hillary Clinton's weight. Hillary, though not quite as bulky as Christy, is – to put it delicately – heavy. But you don't hear anybody jesting that she's going to stand in as a breakwater on the Jersey shore, or that she caused a traffic jam by crossing the George Washington Bridge or is having a new pantsuit tailored at the awning factory.

This is because it would be ungallant to make fat jokes about a woman. A woman can assume the proportions of the Graf Zeppelin, and nobody will suggest openly that she take her place in the Macy's Thanksgiving parade. The unchivalrous gent who made such crack could find the object of his "humor" smacking him in the mouth, or worse, dissolving in tears.

Though he might be trying to be an equal-opportunity offender, he'd be faced with the charge of sexism. You can hear the accusations: "Don't you know what menopause can do to a woman, you insensitive oaf? Would you rather she was bulimic, you unchivalrous jerk? I suppose your ideal woman's body would look like Barbie, you sick so-and-so."

So, women get a pass if their hips stick in the limousine door, if they look like they've been taking extra gravy on their banquet-circuit mashed potatoes or if the speaker's platform threatens collapse as they approach the lectern.

This isn't a call for fairness. I don't want fat women to receive the same treatment as fat men. I want fat men to receive the same treatment as fat women. That is, knock it off. Weight is irrelevant. Instead, try to stick with the issues.
If Ackley wants us to "stick with the issues" and not tell fat jokes, why obsess over Hillary's weight and lament that you can't joke about it?
Posted by Terry K. at 8:58 AM EDT