NewsBusters Endorses Limbaugh's Jealous Attack on Ronan Farrow
Topic: NewsBusters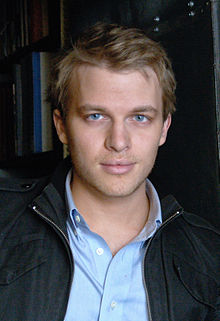 Rush Limbaugh hates Ronan Farrow, and NewsBusters loves him for it.
A March 8 NewsBusters post by Scott Whitlock approvingly quotes Limbaugh attacking Farrow by claiming that "He's never done anything. He's never gotten good at anything" and that everything Farrow has achieved, including becoming host of an MSNBC show, occurred "simply by virtue of genealogy" and "simply because of the sperm cells." Whitlock adds that because Farrow's show isn't an instant hit, "The ratings back up Limbaugh's contention."
Do Limbaugh and Whitlock think Farrow graduating college at 15 is an achievement accomplished only because he has famous parents? How about becoming a Rhodes Scholar? If so, they don't understand how such things work.
It seems that Limbaugh and Whitlock are jealous of Farrow's success; when Limbaugh was Farrow's age, he was still working as a small-market radio DJ. We don't know what Whitlock was doing, but we're pretty sure he wasn't hosting a TV show.
Limbaugh is green with envy that Farrow has achieved so much more than the young Limbaugh had, and Whitlock is more than happy to endorse that envy.
Posted by Terry K. at 12:42 PM EDT