Joseph Farah Pretends WND Cares About The Truth
Topic: WorldNetDaily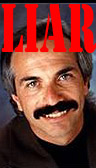 Awww, how cute -- Joseph Farah uses his May 26 column to try to convince us that his WorldNetDaily cares about the truth:
It's not about "fair and balanced." It's about seeking the truth.

The Internet lowered the cost of entry into the news game, and with it came other alternative media – like WND.com, the very first independent news-gathering organization to be formed specifically for the Internet.

We have been fearless seekers of the truth ever since – for more than 17 years. So I think I have more than a little knowledge in this area.

The WND team is a collection of journalistic refugees from the "mainstream media," which abandoned their watchdog role and their mission to expose corruption, fraud, waste and abuse in government.
All of that is a bald-faced lie.
We've documented lie after lie after lie after lie at WND, some of those lies coming from Farah himself. WND and Farah have yet to correct or apologize for any of these.
If Farah and WND really cared about telling the truth, why do they tell so many lies?
And Farah's "journalistic refugees" are little more than right-wing hacks who could no longer handle telling the truth without fear or favor. For example, Bob Unruh may have once worked for the Associated Press, but the biased work he generates for WND fails even the AP's basic journalism standards. And since their boss is a documented liar, they certainly have no example to follow in telling the truth. Farah doesn't seem to understand that peddling lies about your political enemies does not equal being a "watchdog."
Indeed, Farah doesn't give a damn about the truth -- all he cares about is pushing his right-wing agenda and trying to destroy Obama. Funny thing is, all those lies he and his website have peddled in the pursuit of that agenda means nobody believes them anymore.
Posted by Terry K. at 7:54 AM EDT