WND's Kinsolving Lies That Scouts Also Allows 'Coprophilia, Pedophilia, Bestiality'
Topic: WorldNetDaily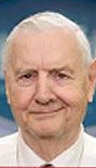 It wouldn't be Les Kinsolving if he wasn't being a vile homophobe, and he delivers in spades ion his May 27 WorldNetDaily column:
Something to offend everybody.

That is what 60 percent of 1,400 Boy Scouts of America did at their national meeting in Grapevine, Texas, on May 13.

This 60 percent actually approved a measure that said no youth may be denied membership in the Boy Scouts "on the basis of sexual orientation or preference alone."

Can you believe this?

Believe it – and realize that this statement inevitably proclaims that the Boy Scouts will not reject any boy who has engaged in coprophilia, pedophilia, bestiality or any of the many other alternative sexual orientations.
Well, no, it doesn't, except in Kinsolving's twisted little brain. Not to mention the utter illogic of declaring an underage teen who has sex with another underage teen a "pedophile."
And how is that Kinsolving is so knowledgable on bestiality and coprophilia, anyway? He sure talks about it a lot.
Posted by Terry K. at 2:47 PM EDT
Updated: Wednesday, May 29, 2013 2:48 PM EDT