WND's Kinsolving: Why Isn't Bestiality Treated The Same As Homosexuality?
Topic: WorldNetDaily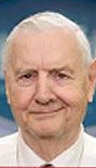 Raging homophobe Les Kinsolving is at it again, just asking in his May 20 WorldNetDaily column why bestiality isn't treated the same as homosexuality:
If lesbians, male homosexuals, bisexuals and transsexuals should have the right to marriage licenses – as a few states, including Maryland, now provide – why should the real animal lovers (whose orientation is bestiality) not be allowed to marry?

The argument that animals are incapable of making a choice is surely invalid in that some animals choose to run away when fondled by humans, while others do not – which certainly indicates their ability to choose.

Have there ever been any reports that apprehended practitioners of bestiality have as high a rate of AIDS and syphilis as do homosexuals?
Kinsolving sure knows a lot about sex with animals. Is there something you're not telling us, Les?
Posted by Terry K. at 1:50 PM EDT
Updated: Thursday, May 23, 2013 1:52 PM EDT