Colin Flaherty Race-Baiting Watch
Topic: WorldNetDaily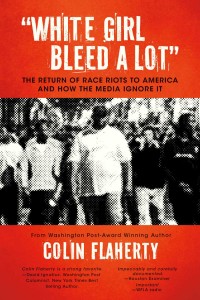 Colin Flaherty keeps up his weird fetish for documenting "black mob violence" in his latest WorldNetDaily article, the headline of which claims there's a "surge" in said violence. But Flaherty documents no such "surge" -- that would require relevant statistics, and Flaherty is too busy conflating anecdotal evidence into a so-called "epidemic."
After noting a "black mob that created violence" on the Washington, D.C., Metro subway system, Flaherty asserts, "Black mob violence is a regular feature of life on the Metro." Well, no, it's not -- he cites only three incidents over the past two years.
It's that sort of ridiculous overstating that calls Flaherty's motives into question. As does the blurb on the website for his self-published book "White Girl Bleed A Lot" by John Derbyshire, last seen getting the boot from National Review after writing an article denigrating the IQs of blacks and advising people to "[a]void concentrations of blacks not all known to you personally."
Posted by Terry K. at 12:28 AM EDT
Updated: Wednesday, May 15, 2013 10:08 AM EDT