WND's Farah Even Lies About Himself
Topic: WorldNetDaily
Joseph Farah has demonstrated a disturbing propensity to lie in recent days. His mendacity is so pervasive that he'll even lie about himself.
Farah starts his Aug. 30 WorldNetDaily column with a falsehood: that the Southern Poverty Law Center "inspir[ed] a shooting attack on the Family Research Council in Washington." In fact, nobody -- not even the FRC's Tony Perkins -- has provided any evidence whatsoever to prove that.
The rest of Farah's column is devoted to whining about a new SPLC piece on WND, which Farah claims "mixes misinformation, innuendo and outright lies to paint a picture of an extremist organization rather than what it admits is one of the most popular news organizations on the Internet." Farah then tried to rebut some of the article's alleged falsehoods, telling new lies in the process. For instance:
One of my board members is credited with joining me in an effort to revive the Sacramento Union, the daily newspaper I once ran, in 2004. Neither one of us was involved in any such effort.
The SPLC cites ConWebWatch for this claim; we wrote in a 2007 article that Farah and Richard Botkin were advisory board members for the Union revival. We cited a Sacramento Business Journal article that stated (emphasis added):
The advisory board for the magazine includes some folks who haven't been shy in the past about letting their politics show. It includes former GOP Assemblywoman Barbara Alby and Assemblyman Larry Bowler; Charles H. Bell Jr., general counsel to the California Republican Party and the Western Journalism Center; WorldNetDaily.com execs and contributors Richard Botkin and Farah, who also has a radio talk show; California Business Properties Association CEO Rex Hime; auto dealership founder Wes Lasher; developer Marvin L. "Buzz" Oates; and local ad exec Sal Russo.
In other words, Farah is lying through his teeth.
Farah also complains:
SPLC attempts to link me with R.J. Rushdoony, whom it identifies as the "father of Christian Reconstructionism." Yet, reconstructionists, including the late Rushdoony, all know or knew I do not subscribe to their theological views.
Farah seems to be trying to split hairs here. He doesn't explain what "theological views" of Rushdoony he does not "subscribe to," but it's clear that Farah moves in reconstructionist circles -- the two were both (and Farah may still be) members of the secretive right-wing group the Council for National Policy, and WND board member Wayne Johnson is also on the board of the Rushdoony-founded Chalcedon Foundation. And as we've documented, Farah does hold some reconstructionist views, like opposition to public education and the death penalty for moral crimes such as adultery.
Farah writes:
The article contends an organization I founded, Western Journalism Center, "was hit with a $2 million libel suit for promoting a 'report' suggesting that White House Deputy Counsel Vincent Foster had been the victim of foul play, rather than suicide. (The suit was later dismissed.)" No such lawsuit was ever filed – though the Bill Clinton White House did, in fact, order a highly publicized Internal Revenue Service audit of WJC as a result of the investigation.
The SPLC's wording on this is imprecise, which Farah is trying to take advantage of. The specific allegation appears to be that a WJC-published article by Christopher Ruddy claimed that the Park Police had staged the scene of Foster's death, which resulted in a lawsuit by one of the Park Police officers named in Ruddy's article. That is sourced to Dan Moldea's book "A Washington Tragedy: How the Death of Vincent Foster Ignited A Political Firestorm."Farah has previously denounced the book in a 1998 column as a "journalistic con job" and, even worse, boring -- but he did not challenge Moldea's depiction of the lawsuit.
Farah writes:
SPLC claims I was "scheduled to be a featured guest at a 2007 conference run by Vision Forum Ministries, an ultraconservative outfit whose director Doug Phillips is the son of Constitution Party co-founder Howard Phillips." I have never been invited to speak at such an event!
The Vision Forum Ministries page on the conference (which appears to have been canceled) would seem to prove him wrong. Here's a screen shot of Farah's bio from the page: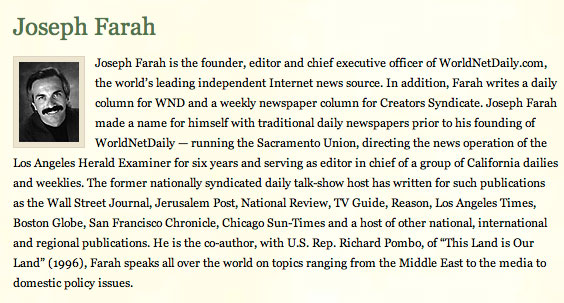 Farah also writes:
SPLC makes the completely unfounded accusation that "WND shilled for a publication titled 'The Antichrist Identity' that claimed President Obama is a crypto-Communist 'apostle' of the 'New World Order' who is setting up the planet for a takeover by 'Jewish Masonic' elites who will reduce the population by 5.5 billion and 'enslave all of mankind under the thumb of a Jewish master race led by a world messiah of Jewish ancestry who is to rule from Jerusalem.'" This is a complete fabrication – made up out of whole cloth.
The SPLC points out that the publishers of "The Antichrist Identity" rented WND's mailing list to promote it, so it's not entirely untrue to call that "shilling." Besides, WND is no stranger to portraying Obama is the Antichrist, so it's unlikely that they saw the book as so extreme they should not accept money to rent out its mailing list to promote it.
Farah also repeats his disingenuous claim that WND has a wide variety of opinion because it published a couple of token liberals:
Yes, there are "ultra-conservative" views expressed at WND. But, of course, SPLC neglects to mention there are also ultra-liberal views expressed at WND in what is the broadest spectrum of political opinion to be found anywhere in the world.

Repeatedly, SPLC caricatures WND's Judeo-Christian worldview as "anti-gay" and "anti-Muslim" – an incendiary and explosive combination that, according to the assailant, inspired a recent violent attack on Family Research Council, one of its other prominent targets, that resulted in the shooting of its security guard.

What SPLC does next is to use partial quotes from a long list of individual commentators over a 15-year period to suggest all of their opinions somehow represent those of WND. Of course, SPLC doesn't quote from a single liberal contributor – people like Bill Press and Ellen Ratner – because that would contradict the thesis that WND is a monolithic, extremist company that pushes Christian dominionism.
In fact, as we've pointed out, of the three dozen or so columnists WND regularly publishes, Press and Ratner are the only liberals, apparently kept around only so Farah can claim that WND has "the broadest spectrum of political opinion to be found anywhere in the world." They're never promoted the way the "ultra-conservative" columnists are -- of which there are many more -- usually buried at the bottom of the commentary page.
Farah even complains of the SPLC article that "The race card is repeatedly played, too – ignoring the fact that WND showcases twice as many black columnists than any other news or commentary forum in the world." The fact that Farah treats that as a bragging point suggests that the only reason WND has so many black conservative columnists -- many more than the total number of liberals he publishes, by the way -- is to inoculate it from charges of racism.
That presumably gives WND licence to publish Pat Buchanan, known for his racially charged work, and to engage in a race-baiting campaign by publishing Colin Flaherty's articles depicting blacks as mob-prone thugs.
After all these disingenuous lies and misrepresentations, Farah still claims that "SPLC is a dangerous, repulsive group of liars and frauds with only two things in mind – making money through direct-mail scare tactics and recklessly putting targets on the backs of 'enemies,' like me, whom it demonizes with false accusations and misrepresentations."
Farah, it seems, truly does lack a conscience.
Posted by Terry K. at 12:51 PM EDT