CNS Touts Poll On How Nobody Trusts The Media -- Of Which CNS Is A Part
Topic: CNSNews.com
It seems that Terry Jeffrey couldn't be prouder that nobody trusts the "news" website he runs.
A Sept. 21 CNS article by Jeffrey touts how "Only 8 percent of Americans say they have a 'great deal' of trust in the news media, according to a new Gallup poll," which is "a record low for the 40 years that Gallup has been polling on the question."
While the Gallup poll question Jeffrey features "the mass media--such as newspapers, T.V. and radio," a significant share of news consumption takes place on the Internet. CNS proclaims itself to be "a news source," which means it's part of the "news media" being rejected as untrustworthy.
In other words, Jeffrey is touting now few people trust his own "news" organization. That's a strange thing for the head of a "news" organization to be proud of; if Jeffrey wasn't, he wouldn't have taken the time from whatever other duties he has as the editor in chief of CNS to summarize these poll findings.
Not only that, Jeffrey's article was promoted at the top of CNS' front page for much of this past weekend with a huge accompanying photo (albeit irrelevant since NBC is not referenced in his story):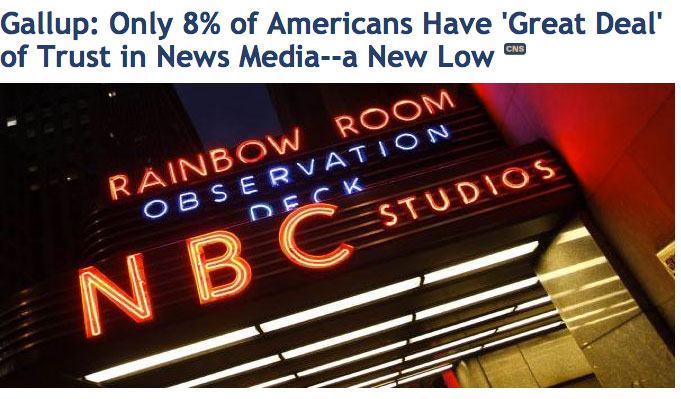 Jeffrey clearly wants everyone to know that nobody trusts his "news" organization. Very peculiar.
Posted by Terry K. at 7:13 PM EDT