The MRC's Drag Queen Targets
One doesn't even have to be a drag queen to be a target of hate from the Media Research Center -- one can also be someone with a flamboyant wardrobe or even just a guy in a dress.
By Terry Krepel
Posted 7/21/2023
---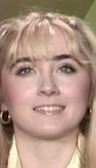 Tierin-Rose Mandelburg
As mandated by right-wing narratives, the Media Research Center has gone all in on hating drag queens and manufacturing threats they purportedly post. And it's not just drag queens in general that they hate -- specific people have been targeted, some of whom are drag queens, while some just dress flamboyantly. It's even vented outrage at certain males simply for wearing a dress.

Let's review the MRC's targets over the past couple years.

Nicholas Fondacaro devoted a July 29 post to complaining that the co-hosts of "The View" don't hate drag queens as much as he and Florida Gov. Ron DeSantis does:
On Friday's edition of The View, the show essentially came out in support of exposing kids to sexualized drag shows by decrying Florida Republican Governor Ron DeSantis for filing a complaint against a venue that exposes children. Co-host and "Republican" Ana Navarro was irritated by the move and whined to queer star Billy Porter that this was happening to the place she had her bridal shower.

Porter, who was on the show to promote his new Amazon Prime movie Anything's Possible (which is about a trans high school student finding love), had some thoughts about Florida but held back saying "I can't say it on daytime!" "Oh, God. Here we go," he proclaimed in fear as she started her story.

"There seems to be this renewed anti-LGBTQ campaign of wanting to portray LGBTQ as if they were groomers and all this stuff," she bemoaned.
Fondacaro didn't explain how a man wearing a dress is, in and of itself, "sexualized."
The MRC has previously attacked Porter for his gender-bending sense of fashion: A January 2020 post by Ehrhard raged that Porter appeared on "Sesame Street":
PBS once provided children with happy thoughts of a fatherly Mr. Roger's talking to us about our day or adorable Ernie singing about his rubber ducky on Sesame Street. But for the LGBTQXYZ movement, children's programming is just another opportunity to teach kids all the ways that it is a homosexual/transgender day in the neighborhood.

In recent years, children's public television has premiered a "gay marriage" on Arthur, sang about two dads with a baby in a preschool song about families, and put Grover in a purple dress on Sesame Street. But apparently having a muppet go transvestite for a day just was not inclusive enough. On January 30, the creators of Sesame Street announced on social media that cross-dressing LGBT activist Billy Porter, star of the LGBTQ FX show Pose, will appear on Season 51 of Sesame Street on HBO Max this spring.
She got one thing wrong: she identified "Sesame Street" as part of "public television" while also reporting that this episode will air on HBO Max, which is most definitely not public television. She concluded by absurdly ranting: "Next thing you know Daniel Tiger will announce his gender transition at his preschool or Elmo with 'come out' to the kiddies. With the sexual/gender theory left there is no end to the possibilities."
Fondacaro spent a March 21 post demeaning "gay actor" Porter for defending drag queens:
In the latter half of Tuesday's edition of The View, gay actor Billy Porter screamed like a banshee as he denounced Florida Republican Governor Ron DeSantis for cracking down on child exploitation at drag shows. The unhinged Porter screamed that DeSantis had launched a "civil war of the mind" and conspiratorially shouted about how investigators needed to "follow the money." His manic tirade received nothing but strong approval from the rest of the cast.

Joy Behar noted that, in the eight months since Porter was last on the show, "things have only escalated" in terms of DeSantis's legal challenges to kids being at drag shows. "What do you make of the fact that we're still talking about this, and that it's happening in other states too, not just Florida?" she wondered. "There's this war against trans people,"she answered for him.

Things immediately dipped into the conspiratorial as Porter shouted about the need to "follow the money" like it was Watergate:

[...]

Failing to explain why kids needed to take part in drag shows or attend them at all, Porter made the asinine deflection that "the leading cause of death in children are GUNS!" "They're guns! I know it's the morning and I'm not supposed to be screaming, but they're guns!" he screamed.

"Not drag queens," Whoopi Goldberg added. "Not drag queens! LEAVE US ALONE!" Porter shrieked at the top of his lungs.

[...]

"It's a distraction on purpose. We don't know what to pay attention to … What's happening?! ... What are we talking about, and what are we doing?!" he continued to come off the rails. "We're already in a civil war, y'all! It's a civil war of the mind! They're messing with our minds! We're already in it!"

This crazed hyperventilating by Porter got nothing but praise from The View cast. "But you're making the right points," Hostin said, with Behar proclaiming: "The civil war on the mind is a very good point."
Fondacaro made no effort to rebut anything Porter actually said -- presumably because he knew he couldn't. That's why he chose to distract from that by trying to ridicule him instead.
Shangela
When a drag queen joined the latest season of "Dancing With the Stars," Tierin-Rose Mandelburg spewed the MRC's usual hatred for them (and the invented "woke mob" bogeyman) in a Sept. 8 post:
The 31st season of the popular celebrity dance competition "Dancing With The Stars" is set to air September 19, and will break history again with its inclusion of...a drag queen. Because God forbid a TV show air without shoving progressive gender and sexual ideologies.

D.J. "Shangela" Pierce, a 40-year-old man who performed as a singer in "RuPaul's Drag Race, will be paired with professional dancer Gleb Savencho. I certainly hope he'll be in ballgowns and not mini-skirts.

We're apparently in for a treat, as this is the first-ever drag queen competitor for "Dancing With The Stars." Can't wait to sit on the edge of my seat worrying about this man's junk falling out of his leotard.

[...]

The show's executive producer, Conrad Black, called the casting "a step for the show" that's "reflecting the world of entertainment and the modern world." He also called Shangela a "fantastically engaging personality," USA Today reported.

The only thing this "fantastically engaging personality" is reflecting is that DWTS is just another group that allowed the woke mob to infiltrate its show quality.
Mandelberg concluded by sneering: "I don't know what my plans are for September 19, but I sure as heck know it won't include watching this. " That was a lie, of course -- the MRC is paying her to hate-watch this show, so hate-watch she did. The hateful results were put in a Sept. 20 post:
I told you not to watch the Dancing With The Stars premiere back in early September. I should have taken my own advice.

D.J. "Shangela" Pierce, has graced the world with "her" presence on this season's DWTS. Shangela, a drag queen, received roaring reviews for her performance last night … for her status as a drag queen however not for the dancing itself.

The premise of a dancing show should be, well, dancing but this year the show focused more on the dramatics and less on the skill.

Last night's premiere featured Shangela with "her" partner, Gleb Savencho dancing to "When I Grow Up" by the Pussycat Dolls. Interesting song choice for a 40-year-old man who still plays dress-up.

The judges LOVED the performance and each scored the couple with a seven and used the show, which was streamed live on Disney+, to push the progressive narrative.

On the episode, Shangela said: "Out of drag, I'm pronouns he/him, and in drag, she/her." Again, I thought we stopped playing dress-up by age ten.

[...]

I understand that TV shows need to dramatize storylines to keep people entertained, but this show is about dancing, not progressivism. Not to mention, DWTS switched over to air on Disney+ which is geared for younger people. Shangela doesn't present as the best role model for kids to have.

On Instagram, the DWTS page commented "we want to be you."

I think I speak for us all when I say, no, no we don't.
No, dear, you don't "speak for us" because The vast majority of the country does not have the same irrational level of hatred to non-heterosexual things as you do, and even fewer of us are being paid to spew that hate.
When Shangela's partner also dressed in drag for one episode, Mandelburg's head was an explosion of hate in a Nov. 23 post:
One drag queen was one too many. Now they've gotta give us TWO!?

For the 31st season of Dancing With the Stars, history was made when a drag queen was cast. Somehow said drag queen made it to the finale episode where he danced with Gleb Schevancok who, for the finale, also dressed in drag.

Didn't know I was going to see men in tights when I flipped on DWTS Monday evening.

The male to male pair transformed into the shows first ever (and hopefully last ever) queen to queen pair. Savchenko danced in a white and pink sparkly bodysuit and looked like he was performing in the Broadway show Cats.

He also had on a blonde wig, high heels and a full face of makeup. The pair danced on a mock set of RuPaul's Drag Race Werk Room, and two other queens from that show joined in on the performance. Let's just say Gleb or as he was introduced, "Natasha," was NOT a sight for sore eyes.
Mandelburg's drag queen phobia continued:
Shangela used the opportunity on DWTS to exclaim that "drag belongs everywhere."

Uh ... no.

I can name about a billion places where drag does NOT belong. For one, anywhere that children exist or have a place to be at.

Such as on Disney+.

But, as most of you know, DWTS airs on none other than Disney+. This isn't something only accessible for adults. In fact, with it's existence on Disney+, it serves as something to encourage kids to watch.

This performance and drag being "everywhere" is just another sick attempt by the left to create an army of woke progressivism.

Count me OUT!
Of course, she won't be out. Hating drag queens is her current meal ticket, so she will hate-watch this show every week to keep that manufactured outrage machine (and her paycheck) going.
After her DWTS stint, Shangela committed the offense of not going away, so Mandelburg's hateful head exploded again in a Jan. 17 post:
The word "cringe" couldn't have been any more applicable.

Dancing With the Stars contestant D.J. Pierce, commonly known by his drag queen name, "Shangela," went on Good Morning America Tuesday to talk about his upcoming "Fully Lit" tour and his push for drag queens and LGBTQ garbage across the nation. And the show hosts were head-over-heels excited for their special guest.

The segment started with co-host Robin Roberts literally jumping for joy waiting for "Shangela" to come out from backstage. After that, Roberts and fellow co-hosts Lara Spencer and Michael Strahan sat down with Pierce to talk about upcoming and past highlights of his life.

[...]

"We need that right now. We need that all the time but especially now [with] everything going on in the world," Roberts interjected.

I can name about a billion things we need more of right now other than drag queens, but carry on.
And we need Mandelburg's obsessive hatred of drag queens even less. Yet she continued to whine anyway:
His [sic] added that biggest accomplishment was probably walking across the White House lawn in stilettos to watch President Biden sign the Respect for Marriage Act.

"It's great to see, you know, our country in this way, the administration supporting the LGBTQ community, protecting the rights and the equal treatment of so many people. That is what matters in this world and I'm just happy to be a part of it and to experience it live and in person," Pierce said.

Here's the thing: if Pierce wants to dance in dress-up clothes, that doesn't affect me. And if GMA wants to use its air time to frivolously promote someone with clear delusion in his head, so be it. That's honestly nothing new for GMA.

But the second "Shangela," or whatever he goes by on a given day, enters a space where children are present and tries pushing LGBTQ propaganda down little throats, that's a bridge too far.
Huh? Merely existing as a drag queen "where children are present" is "a bridge too far"? Not hating LGBTQ people is "propaganda"? Mandelburg has a serious complex about drag queens -- and has clearly been indoctrinated to hate them.
We'd suggest she seek professional help, but her mental illness is currently paying her bills and she might see derailing her gravy train as a bit on the cringe side.
When Shangela was sued by a former co-worker over an alleged sexual assault, Mandelburg was there in a May 4 post to mock and smear:
If you've ever heard of Shangela, first off, I apologize. Second off, if rumors are true, it appears he/she's has caused even more chaos as of late.

According to a statement from the Los Angeles Times, Shangela — a.k.a. Darius Jeremy Pierce, and who's appeared on RuPaul's Drag Race, numerous legacy media segments, Dancing With The Stars and HBO's We're Here — has been accused of sexual assault.

Naturally, Pierce denied the allegations, even going so far as to say he was "hurt and disgusted" by the "totally untrue allegations," and insisted that the allegations were "harmful" to his "entire community."

"As a hardworking and outspoken drag entertainer for more than a decade, I know that I am far from alone in battling ignorance, bigotry and prejudice, all of which played a role in the filing of this complaint. That is why I will fight this entirely meritless lawsuit and not allow it to destroy me and those I love, or harm the causes we all stand for," he said.

Apparently, alleging someone raped you is "harmful" if that someone happens to be a man who dresses up as a woman.

It's likely that McGarrigle, who reportedly filed a complaint against Shangela years ago, filed his suit now due to Shangela's latest wave of fame. If he was in fact assaulted, I imagine that it's challenging to see your abuser be so widely celebrated.
By contrast, the MRC was much less sympathetic toward E. Jean Carroll, who has accused Donald Trump of sexual assault, laboring hard to portray her as crazy and less than credible.
Mandelburg concluded by effectively claiming that all LGBTQ people are sexual predators:
McGarrigle said he didn't come forward initially because he was worried that "social conservatives will weaponize the allegations and use them to perpetuate the notion that drag queens — and LGBTQ+ people in general — are sexually perverse and dangerous to children."

In all fairness, accusations of sexual assault and predatory behavior are becoming quite the trend among the LGBTQ mafia, and I don't think it's going to stop anytime soon."
In other words, Mandelburg proved McGarrigle right.
Guys in dresses
When pop star Harry Styles did a 2020 photo shoot for Vogue magazine in which he wore dresses, there was a collective ConWeb meltdown, with WorldNetDaily and the MRC's "news" division, CNSNews.com, weighing in; the MRC's contribution came from Sergie Daez, who was aghast that anyone would criticize Candace Owens (whom CNS quoted as raging against "the steady feminization of our men" and demanding to "Bring back manly men") for her meltdown:
Who would look more manly? A gnarly-faced Scot who's clad in a kilt, sporting a fierce beard, brandishing a claymore and wearing a scowl that could kill a snowflake? Or a smooth-faced boy with styled hair who's wearing a dress that resembles a ball gown from the 1800s?

While appearance doesn't reveal everything about one's character, it can send off a message about one's beliefs. Harry Styles, British vocalist of the band One Direction, seems to think that it's alright for men to wear dresses, as evinced by his latest photo shoot with Vogue magazine. Conservative political activist and author Candace Owens found the sight revolting, and she tweeted on November 14, "There is no society that can survive without strong men. The East knows this. In the west, the steady feminization of our men at the same time that Marxism is being taught to our children is not a coincidence. It is an outright attack. Bring back manly men."

Billboard.com reported Owens's disgust in an article published on November 16, where they called Owens a "hater" and "conservative firebrand." They also presented a number of tweets defending Styles from Owens's comments, including a tweet from actress Olivia Wilde, who is known for acting in the medical drama House.

Billboard's headline indicated that Wilde was defending Styles from Owens, but it sounded more like a childish attempt to avenge an injury.
Related articles on ConWebWatch:
Actually, Daez is the childish one here, responding to actor Zach Braff's tweet that people are "free to be whatever the f*** you want to be" by retorting, "Clearly it's more important to Braff to be what one wants to be rather than to be what one is, that is, oneself," going on to further sneer, "Styles might have his own issues to deal with, but it's important to just be yourself."

But it's clear Daez doesn't want Styles to "be yourself," especially if that self involves wearing a dress in a photo shoot.

But Styles wasn't the only man in a dress whom the MRC was threatened by. A very uncomfortable Gabriel Hays ranted about it in an April 21 post:
Look, we don't care if you're Harry Styles or rapper Kid Cudi, you're NOT GOING TO MAKE MEN'S DRESSES HAPPEN!

In another shock fashion statement aimed at making straight men feel uncomfortable and making lesbians even more confident in their mating decisions, Kid Cudi donned a white, floral patterned dress during his appearance on Saturday Night Live.

What's worse is that straight guys can't just ignore the emasculated exhibitionism of one confused hip hop artist, they have to deal with fashion media telling us that Cudi's move is evidence that dresses for men are "becoming the norm."

Pardon our French, but the hell they are!

[...]

Maybe, we are the type of people who don't "get" high fashion, but come on, a grown man wearing spaghetti straps and a floor length gown does not look right, even in an avant-garde way. Sure, a man flexing his biceps while in a dress fit for his young daughter on Easter Sunday offends our sensibilities, but not in any sort of revolutionary way. It's just dumb.
Kid Cudi was actually paying tribute to Nirvana's Kurt Cobain -- who similarly wore a dress during his band's "SNL" appearance -- but you stay insecure in your manhood, Gabe. His ranting continued:
It's about social engineering. For Tashjian and GQ, Styles and Cudi looking super girly is about tipping the scales towards the further feminization of culture. Tashjian is tired of the male suit being the standard for traditional society dress. Getting more men to wear dresses balances the scale. She wrote, "dressing gender-neutral or gender-fluid meant wearing something derived from the men's suit. Now, the dress may be slowly usurping that role."

Oh yeah, take that, men! Your days of oppressing us with clean cut business attire are at an end. Despite the suit being a conservative look that is polished and flexible for both sexes, GQ needs the dress to be the new model for gender-neutral attire. "It's relaxed and universally wearable, a Big Fit in just one garment," they argued.

The clothing designer who dressed Cudi for his appearance, Virgil Abloh, mentioned that the idea behind the rapper's dress is to destroy gender norms. He told the magazine, "The beauty about now, is our generation, piece by piece, can dismantle norms. 2020 was a year of reckoning about how the system in place that governs us as people is out of date." Well we guess that if 2020 was a year of hell on earth, then perhaps the ensuing fashion statements were going to represent that as well. Gross.
Just like a right-winger to be obsessed with enforcing "gender norms." We're so sorry this happened to you, Gabe.
The latest from