Dick Morris' Election Conspiracies
The terminally wrong Newsmax pundit picked the wrong horse by sucking up to Donald Trump and pushing bogus claims that the election was stolen.
By Terry Krepel
Posted 6/1/2021
---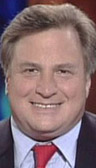 Dick Morris
Despite years of laughably failed prognostications, Newsmax inexplicably thinks Dick Morris deserves a platform to suck up to President Trump. And since Trump's current platform is making baseless and discredited claims that the election was stolen from him, Morris is ranting about that too.

Morris' ranting began the day after the Nov. 3 election, when he declared on Newsmax TV that, according to an article by Eric Mack, "The Democratic Party expected a contested 2020 presidential election and "set up" President Donald Trump to try to overturn a 'verdict' that should have never been projected by pollsters and declared too soon by the 'complicitous' media." Echoing a never-proven claim by the Media Research Center, Morris declared: "The Democratic Party planned for this. They knew they were likely to lose this election, so the first thing they did was to fake the polls that talked about how they were going to win. And that was to set up the presumption that Biden was going to win, so that when he won based on fraud, everybody would say, 'yeah, he was winning anyway.'" Morris too has failed to offer any proof that the polls were "faked."

In a Dec. 1 Newsmax TV appearance, Morris obliged:
"I think that the issue of scale, you have obstruction from the secretaries of state, you have obstruction from the courts, the Democratic-controlled courts, and it's very hard to penetrate that to get evidence enough to reverse several million votes, but there certainly is enough episodic evidence to establish a pattern of fraud," Morris told Tuesday's "American Agenda."

Morris also questioned Attorney General Bill Barr's statement earlier Tuesday that the Justice Department had uncovered no evidence of widespread voter fraud that would tip the results of the presidential election.

"I'd like to know the number of people they had doing it and what they did," Morris said. "But this fraud was so deeply concealed within the voting machines that it was almost undetectable. You would need a top-level forensic computer expert to go in there and detect it.

"These voting machines were designed by people who worked for Hugo Chavez with the sole intention of creating a system that could be hacked without anyone knowing about it, results that could be flipped, votes that could be altered, and I'm not sure DOJ probed it to that level."
Questionable claims about Chavez -- the Venezuelan leader who died seven years ago -- are a staple of right-wing conspiracy theories about the election. That, of course, is a reference to voting-tech companies Smartmatic and Dominion; a few weeks later, a letter from Smartmatic threatening to sue Newsmax for spreading lies about the company forced it to point out that the company states "it never was founded by Hugo Chavez, nor did it have a corrupt relationship with him or the Venezuelan government."
Morris used his own column on Dec. 2 to rant further about this, plus the Georgia Senate runoff that was under way:
After the stolen presidential election of 2020, Georgia Democrats are looking to compound their malfeasance by stealing the two outstanding Senate runoffs there and, with them, control of the U.S. Senate. Republicans, who should be kicking themselves for letting the Democrats steal Georgia in November, are about to let them do it again in the January, 2021 second round Senate elections.

We can't let them steal Georgia a second time.

If we lose the Senate, the White House, and the U.S. House of Representatives, the Democrats will use their victories to alter fundamentally our entire system of government.

[...]

This nightmare scenario will happen unless the Georgia State Legislature and the state's governor (all nominally Republicans) act now to stop the very same election fraud that delivered the state to Joe Biden in November.

The very same inspectors, election officials, and rigged vote tabulating machines are standing by to do in January what they did in November. And they will do it unless we stop them.
Morris then demanded that the runoff use "hand counting of ballots" be used in the runoff and a list of voters be made public in order to "review them to spot irregularities like unregistered voters, votes from people who have moved away, and votes from persons who are deceased."
Morris asserted on Dec. 15:
Antrim County, Michigan — solid red Trump country — raised eyebrows on election night when the results came in showing Biden beating Trump by 63% for the Democrat and only 37% for the Republican. (Trump had beaten Hillary in Antrim by 61-38).

Republicans demanded a recount and got one on Nov. 5.

Oops! It showed. Trump winning this time but by only 57-43.

Still fishy given the massive Trump victory over Hillary four years ago.
Morris went on to cite an alleged audit of the election in Antrim County in which "Antrim County Dominion machines recorded an error rate of 68%." That "audit" has been discredited by election experts who said the people behind the audit didn't understand how voting technology works.
Morris gave up the attacks over "rigged" voting machines after machine maker Smartmatic sent a cease-and-desist letter telling it to stop spreading lies, after which Newsmax walked back its claims about the company and fellow maker Dominion.
In a Dec. 20 appearance on Newsmax TV, Morris laughably claimed that then-President Trump was winning the "argument" on election fraud, claiming, "If Trump is not inaugurated and has to run again in 2024, having won this argument about 2020 is a very important thing, particularly if he can substantiate and lend more credence to the idea that China was behind a lot of the errors and theft." The article by Eric Mack continued:
Morris pointed to the polling of Americans who believe there is evidence of voter fraud in this election, telling host John Catsimatidis that Trump will not overturn the election, but he can set himself up for a strong 2024 case.

"Trump is finally getting some traction on his charges," Morris said. "He is winning the large argument, which is incredible, because the media is opposing him at every turn. Every time he says anything, they say 'discredited,' 'unsubstantiated,' 'disproven.'"

Morris considers complicit media hyperbole.

"Just by calling accusations names does not disprove them," Morris said. "They are losing this fight. That has great significance for the election of 2020, but it has a larger significance for 2024."
The next day, Morris insisted it was "completely untrue and unfounded" and "just disinformation that the Left is spreading" that Trump was planning to declare martial law," but then touted polling showing that more people didn't believe the election results: "If that trajectory continues, you're talking about a major new political reality in this country which is that half the voters will think the current president is illegitimate and will understand the need for serious reform, and take anything that happens with a gigantic grain of salt."
In a Dec. 28 Newsmax TV appearance, Morris lashed out at Georgia Secretary of State Brad Raffensperger for purportedly have created "serious problems" by how he oversaw the November election in not giving Republicans every possible opportunity to challenge votes for Biden.
Morris served up more ranting in a Dec. 30 Newsmax TV appearance:
Recent polling showing more Democrat strength in the Georgia Jan. 5 runoffs elections should be setting off "triple, quadruple alarms," according to presidential strategist Dick Morris, who spoke with Newsmax TV.

"The problem here is not that Georgia will vote Democrat – the problem is they will vote Republican, but it will be stolen," Morris told Wednesday's "The Chris Salcedo Show."

[...]

Morris rebuked Georgia GOP Gov. Brian Kemp for declining to call a special legislative session to address voter fraud concerns and adopt new rules for these special elections.

"You should be scared to death if both those Republicans lose that runoff," Morris told weary Georgia Senate runoff Republican voters.

"Goodbye checks and balances, goodbye founding fathers, goodbye Constitution," Morris warned. "The courts, the House, the president, and the Senate will be in perfect alignment to do whatever the radical wing of the Democratic Party wants."
Related articles on ConWebWatch:
In between, Morris declared that "Trump "absolutely" will run again in 2024 and will easily win the Republican nomination, adding, "And the more evidence that accumulates of voter fraud . . . the media can persist in the illusion that Trump is unpopular, that he's awful, that he really lost the election."

On Jan. 7, Morris had nothing to day about the Capitol riot the day before, but he did claim that Vice President Mike Pence won't be able to ''get nominated for dog catcher'' after choosing to accept electors from disputed states and certify the Electoral College victory for Joe Biden: "'When the push came to shove, Mike Pence was as disloyal as you can get. He has a pure constitutional way of sending this stuff back to the legislators. He chose not to do it."

In his column that same day, however, Morris seemed to have given up on bogus election fraud conspiracy theories, declaring that Republicans would have to emulate Democratic tactics:
Fool me once, shame on you. Fool me twice, shame on me. That saying applies perfectly to the election of 2020 and the Senate runoff of 2021.

We need to beat the Democrats and the ultra-left at their own game.

To do so, we must start with a basic realization: The Democrats won by changing the rules. No longer would campaigns and candidates work to get voters to the polls. They would bring the polls to the voters.

[...]

The entire construct of Election Day needs to change on our side of the aisle from GOTV (get out the vote) to home delivery.

And, on Election Day, lets get our poll watchers to go door-to-door "curing" the defects in the ballots of our voters.

We need to get down in the trenches and battle hand to hand for each vote.
Morris apparently forgot all about election fraud (perhaps because there wasn't any) and moved onto a new cause. In his Jan. 14 column, he was ranting about of "Democratic reign of terror" brought about by ... Democrats and Americans in general holding Republicans responsible for their roles in instigating the Capitol riot. Of course, like a loyal Trump toady, Morris denied that Trump played any role in instigating the riot: "The charge that he 'incited' the riots only refers to his peaceful exercise of free speech, denouncing the election of 2020 as the result of fraud and saying that it was "stolen." Whether you agree with his statement or not, that is the essence of free speech that is protected by the First Amendment."
In his Jan. 18 column, Morris spun another conspiracy, that polls showing exceptionally low approval rates for Trump after the riot were "manipulated" because the polls use a smaller percentage of Republican respondents than the vote Trump got in the election. For instance: "Pew Research captured headlines by finding Trump's approval at only 29%. This poll was heavily by Chris Wallace on Fox News this weekend. But its sample is heavily biased against Trump. Although the president got at least 47% of the vote on November 3rd, Pew's sample only has 30% Trump voters."
But the poll meticulously described its methodology, which includes weighting results to correspond with population benchmarks. Does Morris not know how polls work?
Apparently not, because he went on to tout the one poll whose results he likes: "The only outlier — which is to say the only honest poll — is by Rasmussen that shows the president maintaining a 48% job approval." Morris didn't mention that, according to FiveThirtyEight, Rasmussen has a pro-Republican bias and lower quality polls.
Biden had been president for only two days when Morris wrote a column headlined "Will Biden's Legacy Be Reminiscent of Carter's?" No, really.
Morris declared that Jimmy Carter was "another president who pledged to conquer the swamp," but "his cabinet of retreads and holdovers spoke of his inability to select a team of outsiders committed to change," adding: "In the end, the Carter presidency fell into the gap between his party's (and Speaker Tip O'Neill's) desire to do business as usual and the commitment to change articulated by his political base." Morris then ranted about transgender people":
Even before he was sworn in, Biden was whipsawed between Title IX of the Civil Rights Law, mandating equality between male and female athletes and the demands of the LGBTQ community.

President Trump acted to preserve the intent of Title IX by litigating against treating trans-males as women. That likely was Biden's preference, but, pressured by his LGBTQ supporters, he moved to the left.
That has nothing to do with Carter, only with Morris' continuing love for Trump; he also claimed that impeachment efforts were driven by "a hot tempered desire to kick Trump when he's down" -- which is to be expected from a guy who relentlessly pushed bogus pro-Trump election fraud conspiracy theories.
Morris hadn't completely given up on the election-fraud conspiracies, though. In a Feb. 22 Newsmax TV appearance, he claimed that the Supreme Court's failure to take up a dubious election fraud case shows that, as Brian Truesdell wrote, "the Supreme Court has been so intimidated by Democrats' threats of adding justices, it is ruling to preserve its own prestige." Morris then served up his alternative-facts version of the Pennsylvania case at hand: ""The Constitution says that the state legislatures shall set the rules, the legislature did, the [Pennsylvania] secretary of state violated them, they carried out the secretary of state's orders, congressmen sued, and they won't take the case." In fact, election law experts have said that the executive branch has the authority to decide how to implement election law, and the Pennsylvania Supreme Court upheld the secretary of state's decisions.
Well, nobody ever accused Morris of caring about the truth.
The latest from