Newsmax Rushes to Attack Obama Over Egypt
Topic: Newsmax
As events in Egypt started to escalate, Newsmax wasted no time in finding a way to attack President Obama over it. A Jan. 27 article by David Patten carries the headline, "US Under Fire for NO-bama Response to Mideast Powder Keg."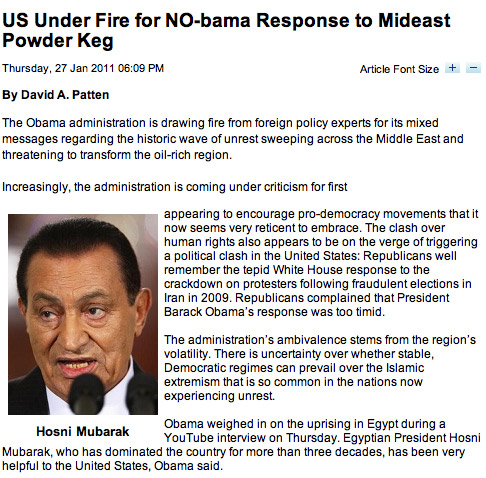 Surprisingly, the article was not as biased as its headline made it out to be. Patten -- who is typically no slouch in regurgitating right-wing talking points -- admitted that "The administration's ambivalence stems from the region's volatility," and nobody Patten quotes echoes the headline's "NO-bama" attack line.
This tells us that Newsmax's only interest was a slapdash attempt get a lead in framing events in Egypt, whatever they end up being, as a failure for Obama -- never mind that things are moving too quickly there for many to get a hold on.
Posted by Terry K. at 1:31 AM EST
Updated: Saturday, January 29, 2011 1:34 AM EST