Examiner Misleads on Train Station Money
Topic: Washington Examiner
A July 10 "Daily Outrage" item (print only) in the Washington Examiner attacked stimulus money going "to refurbish a passenger train station in Elizabethtown, a small town in Lancaster County, Pa." because it "has been abandoned for the past 30 years."
In fact, as Media Matters notes, while the station building is closed for 30 years, the station's platform is open and serving passengers -- more than 80,000 a year. Further, the station has reportedly nearly doubled its number of passengers since 2003-2004 and, according to the Pennsylvania State Department of Transportation, has had the highest increase in ridership in the past two years of any station along the Keystone corridor.
The Examiner failed to mention those facts, which contradict its depiction of the station renovation as a waste of money. The Examiner apparently cribbed its attack from a report issued by Republican Sen. Tom Coburn.
Here's a scan of the item as it appeared in the Examiner: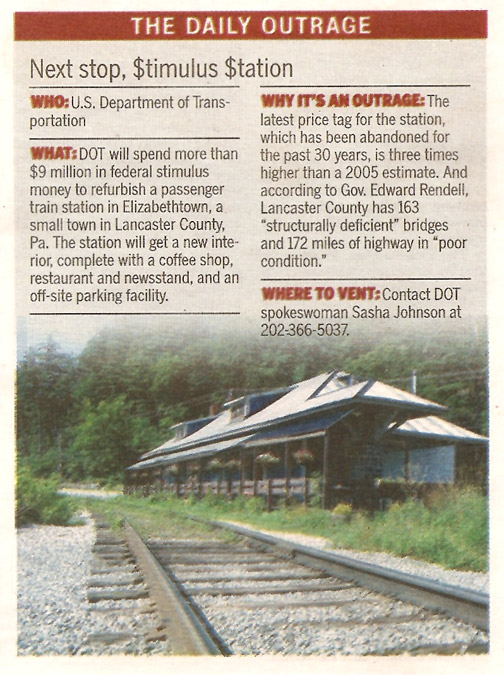 Posted by Terry K. at 1:09 AM EDT
Updated: Sunday, July 12, 2009 1:10 AM EDT