WND Runs Fake Franken Photo
Topic: WorldNetDaily
In yet another example of WorldNetDaily's complete lack of journalistic ethics and credibility, WND illustrated an article on Al Franken officially being sworn in as a senator with a doctored photo of him: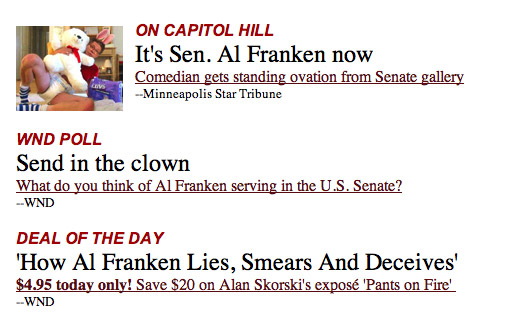 As others have detailed, the doctored photo was created in 2006 by Ohio Republicans sticking Franken's head on another photo of an adult in diapers in order to smear Franken, and it's been used that way ever since.Thus, WND knows or should have known that the photo is a fake.
Even though the photo was displayed on its front page throughout the day on July 8, nowhere does WND indicate that the photo is a fake -- a violation of journalistic ethics.
It also runs counter to WND's previous criticism of doctored photos used by others. A 2005 article, for instance, claimed that the Council on American-Islamic Relations "doctored a photograph on its website to ensure a woman was shown wearing a customary Islamic headcovering." WND also complained when USA Today manipulated a photo of Condoleezza Rice to give her what it called "a menacing, demon-eyesing stare."
So WND is exposed yet again as a pathetic hypocrite. But you knew that already.
Posted by Terry K. at 12:20 AM EDT