It's Still All About David
Topic: Horowitz
We've previously highlighted the cult-of-personality aspect of NewsReal, run by the David Horowitz Freedom Center mainly, it appears, for the glory of David Horowitz.
Another thing on the subject is worth mentioning: The avatar for NewsReal's Twitter account is, yes, the increasingly Lenin-like visage of David Horowitz. Which results in things like this (copied from TweetDeck):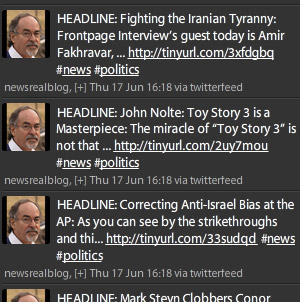 All hail Chairman David!
Posted by Terry K. at 9:17 PM EDT