WND Falsely Smears Another Obama Nominee
Topic: WorldNetDaily
WorldNetDaily's Aaron Klein is keeping up the false smears against Obama administration appointees, having found a new victim to attack.
A Nov. 26 article by Klein carried the headline "Obama appoints anti-Israel lobbyist to anti-Semitism post," referring to Hannah Rosenthal, nominated by the State Department as anti-Semitism envoy. The headline has since been changed (without letting readers know about the change), but the Google cache of the original is here, and a screenshot of the original is at the end of this post.
The smear is an apparent reference to Rosenthal's affiliation with the advocacy group J Street. But J Street isn't "anti-Israel"; in fact, as Media Matters details, J Street describes itself as "the political arm of the pro-Israel, pro-peace movement" and states that it "represents Americans, primarily but not exclusively Jewish, who support Israel and its desire for security as the Jewish homeland, as well as the right of the Palestinians to a sovereign state of their own - two states living side-by-side in peace and security." The group has also been praised by such Israeli leaders as Shimon Peres and Tzipi Livni.
Which, of course, is precisely Klein's problem. As a far-right Jewish activist who's sympathetic to Kahanist extremists, Klein doesn't like anyone who's even remotely liberal (like Peres and Livni). Klein has previously smeared J Street as "a far-leftist Mideast activist organization," and he claims here, as he has before, that the group has been "accused of working against the Jewish state" (omitting, of course, that those accusations come from right-wingers).
Klein also claimed that Rosenthal's "writings suggest Israel's policies are to blame for anti-Semitism," specifically citing comments attributed to Rosenthal in a 2002 Jewish Telegraphic Agency article. In fact, in context, as Media Matters points out, the comments do not imply that.
Further, while Klein referenced an open letter from Anti-Defamation League national director Abe Foxman to Rosenthal disagreeing with an op-ed Rosenthal had writtendescribing a pro-Israel rally being "dominated by narrow, ultraconservative views of what it means to be pro-Israel" (remember, Klein is an ultraconservative), he failed to note that Foxman has endorsed Rosenthal's nomination.
This is sloppy, biased writing, even by Klein's standards. Don't expect a correction because WND doesn't do corrections unless they're threatened with a lawsuit (or lose one).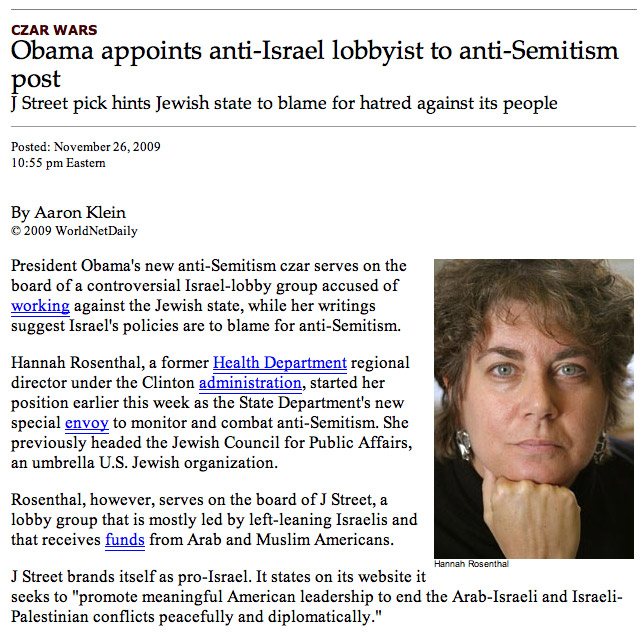 Posted by Terry K. at 10:05 PM EST