Newsmax's 'Shocking' Announcement
Topic: Newsmax
Remember when Newsmax's Christopher Ruddy promised that during his May 7 Obama-bashing webinar that he "will be making an announcement that will absolutely shock you into action . . . I promise it"? Well, the webinar has come and gone, he has made his announcement, and it's ...
... a stock portfolio?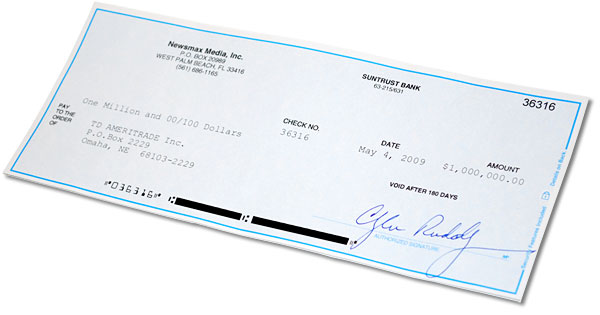 From a post-webinar email:
What would you do if I walked up and handed you a check for a million dollars?

Instantly giving you a 7-figure financial cushion.

You could blow it on exotic cars . . . a mansion . . . or maybe on some worthless extravagance.

Or you could take steps to turn that million into an even larger pile of cash?

The kind of money that will help protect you, your family, and the generations that follow.

From the coming Obama inflation nightmare.

Today you can take steps to begin to make your million-dollar daydream become a reality. Today your financial future is once again in your own hands and not those of Wall Street or Washington.

Today, you can take back your piece of the American Dream.

I believe so strongly in this mission -- this may shock you -- I'm going to put $1 million dollars of my own money "on the line" to do it!

[...]

And here's what I will do for you: you will be given the opportunity to grow your own wealth -- as I grow mine.

And, I'm going to be 100% upfront and transparent about how I do it.
First, the idea of creating a fund whose holdings and trades are publicly disclosed isn't that new -- Jim Cramer has been doing it for years. In Ruddy's case, he plans to "implementing a proprietary investment strategy my Chief Financial Analyst has developed over the last 22 years to grow this $1 million safely . . . easily . . . and most importantly -- MASSIVELY!" Ruddy adds that he's "aiming for a 50% to 70% return in the next 12 months!"
Second, it's not quite "his" money. Note that the check is made out on the account of Newsmax Media, not Ruddy's personal account. Ruddy may be majority owner of Newsmax, but Richard Mellon Scaife owns the rest. That means he'sputting his partner's money into this venture as well.
Despite the populist, anti-Obama tone of the email, it's ultimately a business proposition -- Ruddy wants to sell you the stock picks he's using in his million-dollar portfolio. Only those who pay Ruddy's "charter membership fee" of $1,295 (which, of course, he claims is a discount off the "regular membership rate" and a steal for the value of the package he's offering, which he claims to be worth $6,818) will get access to them.
The fact that Ruddy has a million bucks he can afford to lose on this seems to demonstrate just how lucrative the ConWeb can be.
Posted by Terry K. at 12:02 PM EDT
Updated: Saturday, May 9, 2009 12:04 PM EDT