Meet Molotov Mitchell
Topic: WorldNetDaily
In a May 6 "For the Record" video posted at WorldNetDaily attacking the DHS "right-wing extremism" report, Molotov Michell states: "Did you know that Hilter wasn't right-wing? He was actually a socialist. That's what Nazi means -- national socialist. He had a lot more in common with Obama than he did with Reagan or Bush or Bush Jr."
This is just the latest in a long string of such smears at WND.
Mitchell also includes the following image to accompany his words: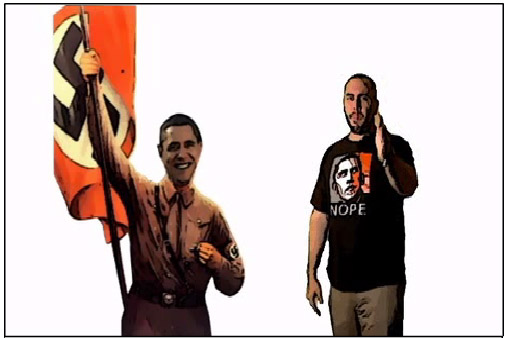 Mitchell also repeats the right-wing talking point that "the Ku Klux Klan wasn't a bunch of Republicans in those bedsheet ... the KKK was actually founded by and comprised of racist, inbred Democrats." This falsely implies that the Democratic Party carries the same policies on race it did in the 1800s (or even the 1950s). Surely a "for the record" dude like Michell knows that's false. Perhaps Mitchell can do a video on why white segregationists like Jesse Helms and Strom Thurmond switched their affiliation from Democratic to Republican in the 1960s after Democratic leaders expressed support for civil-rights legislation, or why Richard Nixon's "Southern strategy" was so successful in helping Republicans win elections.
In listing a number of people who purportedly fall under the DHS report's description of "right-wing extremist," Mitchell showed a picture of the Dalai Lama, with the caption "Anti-gay bigot":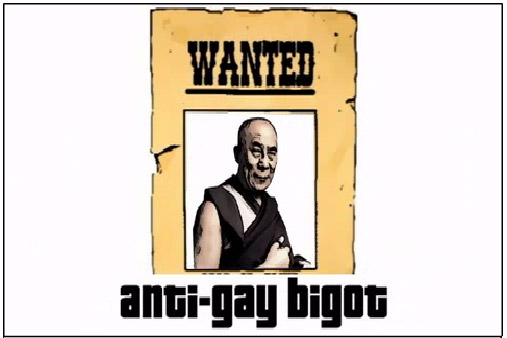 In fact, here's what the Dalai Lama has had to say on the subject:
In a 1997 interview, the Dalai Lama (the leader of Tibetan Buddhism and a widely-respected spiritual figure) was asked about homosexuality. He did not offer any strong answer either way, but noted that all monks are expected to refrain from sex. For laypeople, he commented that the purpose of sex in general is for procreation, so homosexual acts do seem a bit unnatural. He said that sexual desires in themselves are natural, perhaps including homosexual desires, but that one should not try to increase those desires or indulge them without self-control.

In a 1993 talk given in Seattle, the Dalai Lama said:

nature arranged male and female organs "in such a manner that is very suitable... Same-sex organs cannot manage well." But he stopped short of condemning homosexual relationships altogether, saying if two people agree to enter a relationship that is not sexually abusive, "then I don't know. It's difficult to say."

The Dalai Lama was more specific in a meeting with Buddhist leaders and human rights activists in San Francisco in 1997, where he commented that all forms of sex other than penile-vaginal sex are prohibited for Buddhists, whether between heterosexuals or homosexuals. At a press conference the day before the meeting, he said, "From a Buddhist point of view, [gay sex] is generally considered sexual misconduct." But he did note that this rule is for Buddhists, and from society's viewpoint, homosexual relationships can be "of mutual benefit, enjoyable, and harmless."

The Dalai Lama is well known for his activism for human rights, and this specifically includes equal rights for gays. According to an Office of Tibet spokeman, "His Holiness opposes violence and discrimination based on sexual orientation. He urges respect, tolerance, compassion, and the full recognition of human rights for all."
If Mitchell really believes in doing stuff "for the record," he should stick that "anti-gay bigot" caption where it much more accurately belongs: under a picture of Joseph Farah.
More about Molotov Mitchell: His real name is Jason, he has produced a number of inaccurate, smear-laden anti-Obama videos (including an embrace of the Obama birth certificate conspiracy), and he's a part of something called the Zealot Movement, an extremist Christian movement built on the straight-edge punk lifestyle that, according to Mitchell, "avoid[s] the pitfalls of American, effeminised Christianity" and embraces "sexual purity through the practice of abstinence until marriage and the abolition of homosexuality."
"Abolition of homosexuality"? Interesting wording, that.
That would seem to fit in with his declared philosophy of embracing "the lost value of extremism." Too bad he's not all that worried about the lost value of accuracy. Then again, the willingness to smear Obama with extreme prejudice (and extreme inaccuracy) is obviously why Joseph Farah loves him so -- WND has been promoting Mitchell's videos since February.
UPDATE: Richard Bartholomew delves deeper into Molotov.
Posted by Terry K. at 2:00 AM EDT
Updated: Friday, May 8, 2009 2:49 AM EDT