MRC Sports Blogger Frets That Baseball Isn't Manly Enough
Topic: Media Research Center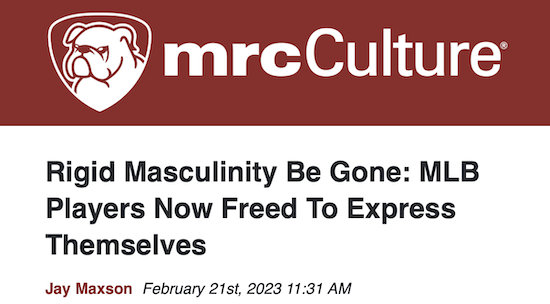 The Media Research Center has a weird thing about masculinity, and that popped up again in a Feb. 21 post by Jay Maxson fretting that major league baseball has become insufficiently manly:
The rigid walls of toxic masculinity are crumbling before our eyes -- because a major league baseball player for the Boston Red Sox plans to paint his fingernails and toenails before every game this season. First baseman Tristan Casas is helping to change the "stereotypically macho image of MLB players for the better," according to sensationalist Outsports writer Ken Schultz.

During spring training in Florida, Casas displayed red fingernail polish and white painted toenails. This girly look is "great" for baseball, Schultz declared.:

[...]

This fitting development from the Grapefruit League is an important step in encouraging once-macho big leaguers to freely express their personalities (inner femininity?), making baseball a more compelling and welcoming game, Schultz raved.
Given that Maxson melted down the day before over a minor league baseball player coming out as gay, it's no surprise that the rant about manliness in baseball continued:
By painting his nails, Casas is adding to the legend of softer baseball players like Joc Pederson, who wore a pearl necklace during the Atlanta Braves' World Series run in 2021. Along with St. Louis hitting coach Turner Ward kissing Lars Nootbar's cheek last year to celebrate his birthday. These are men who add color to a sport that's been suffocated by tradition. With the implication it's been damaged by men acting like men.

These outliers in the manly sport of baseball are helping to generate more inclusion in baseball culture. In fact, Schultz argues that the men cited above made it possible for White Sox minor leaguer Anderson Comas to simultaneously come out of the bullpen and the closet. They're just being who they really are … and all that jazz, the LGBTABCD narrative goes.

A little thing like red nails makes a bigger statement than one would think, Schultz goes on. Stepping outside "the rigid definition of masculinity" opens a window for inclusion allowing Comas to live out his truths and emboldens allies to affirm him.

Even though no major leaguer has ever come out as an active player, a guy painting his nails is no small feat. It's another step in the feminization of men. Somehow, this is supposed to make us a better nation.
But Maxson never explains why this matters. If Casas or any other player can perform at the major league level, what does it matter if they paint their nails or even fail to be heterosexual? Could be that Maxson is just a homophobe -- an odd stance for someone whose bio carries a sexually ambiguous first name and no photo so he readers would know what sex he is.
Posted by Terry K. at 10:02 AM EDT