MRC Was Really Hoping For An Economic Collapse After Bank Failures
Topic: Media Research Center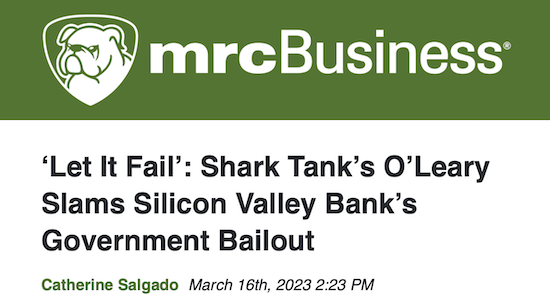 The Media Resarch Center moved from baselessly blaming "woke" policies for the collapse of Silicon Valley Bank, as well as another bank, to being disappointed that the banks' failure didn't destroy the economy because the Biden administration intervened to keep the situation from spreading. Catherine Salgado huffed in a March 16 post:
Shark Tank star Kevin O'Leary bashed the federal bailout of Silicon Valley Bank depositors.

O'Leary explained his critiques on Fox Business's Cavuto: Coast to Coast with host Neil Cavuto on Tuesdsay. Silicon Valley Bank (SVB) is one of several banks that collapsed last week. O'Leary accused regulators of taking an "isolated incident" and creating a "moral hazard" by applying it as an overall banking concern, guaranteeing deposits above the $250,000 Federal Deposit Insurance Corp. limit. He said when the next bank fails, the federal government should just "let it fail." O'Leary would later state during a segment hours later on the Fox News Channel's Hannity that SVB was "run by idiots."

O'Leary told Cavuto he predicted "unintended consequences" from the bailout policy, such as signaling to banks that the Federal Reserve will rescue them no matter what.
A March 27
post
by Joseph Vazquez returned to rooting for the economy to collapse over ther bank failures beause it will hurt President Biden:
Economist Peter Schiff blasted the media aversion to acknowledging that the ongoing banking turmoil is in fact a "financial crisis" that could be worse than 2008.

Schiff highlighted America's record high credit card debt and the failing banks and noted that it wasn't a coincidence that "both the borrowers and the lenders are broke." The "reason for that," said Schiff on the March 21 edition of One America News' Real America with Dan Ball, "is the Fed. The Fed kept interest rates artificially low for more than a decade, encouraging people to go deeper and deeper into debt and banks to extend" credit to them. Now, Schiff said the Fed's incessant number of missteps corralled it into a position where it is being "forced" to "raise interest rates, something that was always going to happen." In turn, the Fed effectively "created another financial crisis," Schiff analyzed.

Schiff then turned his sights onto the liberal media trying to gaslight people on the real severity of America's financial situation and deflect away from the horrid memories of 2008. "The media is reluctant to call this a financial crisis. They keep saying it's a banking crisis. The financial crisis of 2008 was a banking crisis!" According to Schiff, "nobody wants to say what it is because they don't want to evoke memories and comparisons to 2008." However, Schiff warned, the collapse of a number of financial institutions like Silicon Valley Bank, Signature Bank and First Republic Bank were a "sequel to 2008. And like all sequels, this one's going to be worse."
Vazquez spent a March 29 post shockingly not hating George Soros (indirectly, anyway) because a Soros-funded outlet meshed with his talking points:
A major global outlet funded by leftist billionaire George Soros actually published scathing criticism by two economists blasting the Federal Reserve's role in creating the pretext for the bank failures that rocked U.S. markets.

Project Syndicate, which dubs itself as the "World's Opinion Page," published an op-ed by economists Raghuram Rajan and Viral Acharya headlined: "The Fed's Role in the Bank Failures." The authors iterated Silicon Valley Bank's (SVB) and Signature Bank's collapse aren't merely linked to the fact that 90 percent of their deposits were "uninsured." The problem, said Rajan and Acharya, "may be more systemic," and it involves the Fed's recklessness. Even a broken clock is right twice a day. Apparently Project Syndicate — which has a notorious habit of peddling radical anti-capitalist and eco-extremist views on a global scale — decided to let the truth slip out for once. Soros funded Project Syndicate with at least $1,682,390 between 2018 and 2021 alone.

The authors pointed out that "there is typically a huge increase in uninsured bank deposits whenever the US Federal Reserve engages in quantitative easing [(QE)]." The Fed kept interest rates at near zero and "purchased trillions of Treasury and mortgage bonds" for around two years to artificially stimulate the economy, according to The Hill. This served as the genesis for the inflation crisis that preceded the Fed's aggressive interest rate hike campaign that would ultimately lead to SVB's collapse.
Vazquez didn't mention how this op-ed discredits his anti-Soros narrative by proving he (unlike, say. the MRC's "news" division, CNSNews.com) is interested in promoting a diversity of views.
The next day, Vazquez was compelled to quote another commentator he normally hates because, again, only blind adherence to his narratives matters:
It's obvious things have gotten bad when President Joe Biden's talking points are being undercut by one of his most ardent lapdog economists.

Biden took to the press podium March 13 to congratulate himself on his administration's wild efforts to secure the deposits at Silicon Valley Bank following its historic collapse. Biden attempted to dismiss any notion that what he was pushing was a government bailout. "No losses will be — and this is an important point — no losses will be borne by the taxpayers. Let me repeat that. No losses will be borne by the taxpayers," Biden claimed.

Not so fast, said New York Times economics columnist Paul Krugman, aka Mr. "Transitory" inflation. "[Y]es, they were bailouts," Krugman rebutted. "I wish the Biden administration weren't trying to claim otherwise."
That didn't last, however, beause Krugman debunked the right-wing claim that"wokeness" is what caused SVB to fail:
He then went on a tirade, flailing at some of the criticisms levied at SVB for its failures. One that Krugman couldn't swallow was the allegation that SVB failed because of its fixation on environmental, social and governance standards (ESG). "[That's] only marginally less ludicrous than claiming that wokeness somehow causes train derailments," Krugman scoffed. "S.V.B. didn't stand out from other banks in its concern for diversity, the environment and so on."

But Krugman didn't explain his rebuttal well. Perhaps that's because he was wildly off the mark — kind of like his inflation calls.
Of course, Vazquez didn't offer any sort of coherent rebuttal; instead, he parroted a Wall Street Journal opinion piece by Kimberly Strassel that quoted the SVB website saying that "We serve those creating positive environmental change" -- which, of course, is proof of nothing. And he even went on to condede that "there were a myriad of factors that played into SVB's collapse, such as the Federal Reserve's ridiculous easy money policies." Still, he insisted it was "ludicrous" for Krugman "the ESG component entirely as a legitimate factor" despite, again, offering no evidence of that purported legitimacy.
Posted by Terry K. at 9:42 PM EDT