MRC Desperately Tries To Blame 'Woke' Policies For Collapse Of 2 Banks
Topic: Media Research Center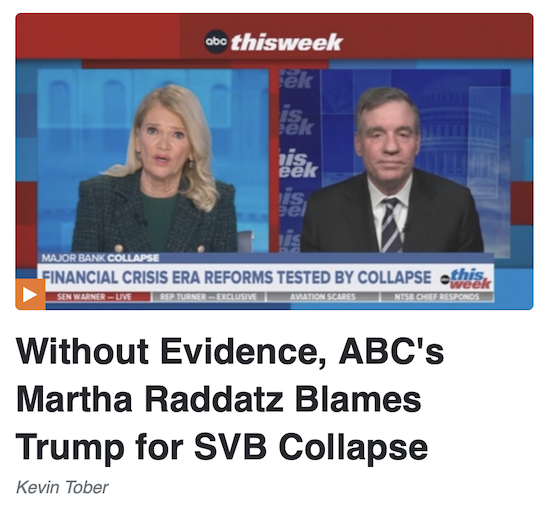 The Media Research Center is nothing if not a slave to right-wing narratives, and it slavishly tried to promote them in the wake of the collapse of Silicon Valley Bank by trotting out various right-wing bogeymen as the cause and denying that lax bank regulation that grew under Donald Trump had anything to do with it. First up was an easy layup by Joseph Vazquez mocking CNBC's Jim Cramer for promoting SVB stock a month before its failure; that was followed by a March 12 post by Kevin Tober that went into Trump defense mode:
It was only a matter of time before the left-wing propagandists at ABC's This Weekblamed former President Donald Trump for the collapse of Silicon Valley Bank which occurred over two years after he left office. During an interview with Virginia Democrat Senator Mark Warner, Raddatz blamed Trump's regulatory policies for the bank's collapse and asked Warner if regretted voting for a banking deregulatory bill.

Raddatz started off the discussion by falsely placing blame: "after the financial crisis in 2008, regulations were put into place to make sure banks could weather large losses. Under President Trump, some of those were rolled back."

"You were 1 of only 17 Democrats who voted for the bill that rolled back some banking rules including for institutions the size of Silicon Valley Bank," Raddatz asked.

Even Warner disagreed with her and correctly noted that "these mid-sized banks needed some regulatory relief."

Explaining to the partisan and economically illiterate Raddatz, Warner said "no matter what the capital had been in this bank if you don't get banking 101 straight if you don't manage your interest rate risks if you've then got a run at $42 billion in a single day," it's unprecedented.
Tober then embraced one of those right-wing narratives: "Since the Silicon Valley Bank was more interested in leftwing gender ideology and other woke priorities, they failed to manage their interest rate risk and as a result, collapsed." Tober offered no evidence that this was, in fact, the case; instead, he linked to a tweet by someone from the right-wing website RedState that had an alleged screenshot of a bank official's bio that called herself a first-generation immigrant who sought to "creatte a sense of community for our LGBT+ employees and allies." Is Tober saying that immigrants and LGBTQ+ people are unqualified to work at a bank?
After another Vazquez dunk on Cramer, Renata Kiss peddled the "woke" narrative again in a March 14 post:
California's woke Silicon Valley Bank went belly up last week, showing the inevitable consequence of ESG policies, according to HomeDepot co-founder Bernard Marcus.

On the March 11 edition of Fox News Cavuto Live, Bernard Marcus, co-founder of The Home Depot, slammed Silicon Valley Bank's (SVB) woke practices that led to its recent collapse. "These banks are badly run because everybody is focused on diversity and all of the woke issues and not concentrating on the one thing they should, which is shareholder returns," said Marcus. "Instead of protecting their shareholders and their employees, they're more concerned about social policies."

[...]

When asked if there are more woke banks out there, Marcus said yes adding that, "the system and the administration has pushed many of these banks into [being] more concerned about global warming than they do about shareholder return."
Despite not offering any evidence whatsoever that being "woke" had any direct role in the bank's collapse, Kiss insisted Marcus was correct: "Marcus is right on point. Just last year, 19 state investigated six U.S. banks for working with the U.N. to deny credit to fossil fuel-related companies. More recently, the Royal Bank of Canada instituted "climate modifier" bonuses for its top executives as part of their ESG agenda." But that doesn't prove Marcus correct on anything either -- it's just an attempt to peddle the anti-ESG agenda currently in vogue at the MRC.
Vazquez angrily returned for another March 14 post, seething that President Biden got credit for keeping the bank failure from morphing into a full-blown financial crisis:
White House propaganda machine Politico wasted no time in trying to cast President Joe Biden as the savior of Silicon Valley startups by praising his ridiculous federal "bailout" plan.

Politico was off to the races in its ridiculous Mar. 13 story headlined: "How Biden saved Silicon Valley startups: Inside the 72 hours that transformed U.S. banking." The first paragraph made the entire article sound like the plot of a Mission: Impossible script: "On Sunday afternoon, an exhausted group of Biden administration officials gathered to put the finishing touches on a hastily composed plan to stave off a nationwide banking crisis."

The collapse of Silicon Valley Bank and Signature Bank, according to Politico's spin, "trigger[ed] a weekend sprint [by Biden officials] to contain the fallout that spanned several agencies and all hours of the day and night."

[...]

Politico dishonestly attempted to make Biden seem prudent in his scheme to guarantee depositors' funds above the $250,000 limit by the Federal Deposit Insurance Corp. The outlet followed the president's lead and deflected away from his plan being labeled a "bailout."
Vazquez didn't explain why it was a bad thing to keep the U.S. financial system from collapsing.
Autumn Johnson complained -- under the overwrought headline "TYRANNY!" -- about the idea that social media could be moderated in order to stop a bank panic that could cause the financial system to collapse:
The U.S. government and leftists of all stripes have set out to silence speech on Big Tech platforms to protect their preferred narrative on a number of issues, and the latest bailout news following recent bank failures is apparently no exception.

Rep. Thomas Massie (R-KY) tweeted March 12 that "[a] Democrat Senator essentially asked whether there was a program in place to censor information on social media that could lead to a run on the banks." As it turns out, there just might be. The cybersecurity branch of the Department of Homeland Security, the Cybersecurity & Infrastructure Security Agency (or CISA), published a report adding financial "misinformation" and "disinformation" in June 2022 to a list of threats that supposedly pose "a significant risk to critical functions" of the federal government that it should act on.

"With every passing day it seems we learn of yet another nefarious way in which Big Tech and government are working to silence Americans," MRC Free Speech America & MRC Business Director Michael Morris stated. "Over and over again we hear from leftist elites in both the government and private sector how they will protect us from impending doom. But how they will protect Americans, it seems, is often the same, by censoring constitutionally permissible speech online. Simply outrageous."
Morris didn't explain how disinformation that could collapse the country's financial system could be "constitutionally permissible."
Vazquez came back for take yet another shot at Cramer, this time complaining that government intervention to the the SVB collapse from spreading meant that the economy "is on the cusp of a soft, safe landing."
Kiss returned to serve up Fox News stenography:
Executives at Signature bank apparently preferred that their employees attend woke lectures and participate in cringey music videos instead of doing what they were hired to do: banking.

On Tuesday's edition of his eponymous show, Fox News Channel host Tucker Carlson lifted the veil on Signature bank's woke practices that allegedly contributed to its pathetic downfall during the Silicon Valley Bank (SVB) meltdown. "If the central bank handed you trillions of dollars free with no strings attached, you would... virtue signal like it was 2023," he said. "You would spend hundreds of millions of dollars bragging about what a good person you are. And that, of course, is exactly what they did."

He showed clips of a woke pronoun lecture put on by the Pride Council's self-proclaimed "gender-queer, transmasculine person" in December, just months before the bank went under. But that's not all. The bank also filmed cringe-worthy parody as far back as 2011 to attract potential employees and clients to the company.
As before, no actual evidence was offered to directly link videos made 12 years ago to the bank's collapse. Kiss and Carlson don't seem to understand that repeating partisan narratives is not the same thing as providing hard evidence.
Posted by Terry K. at 10:09 PM EDT
Updated: Friday, April 7, 2023 9:57 PM EDT