MRC Mad Its False Kamala Harris Narrative Got Fact-Checked
Topic: Media Research Center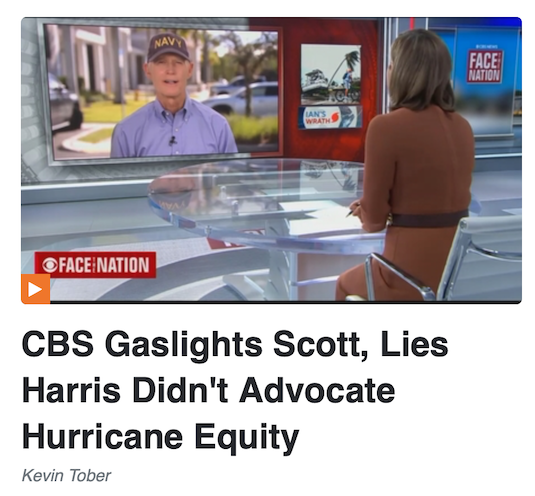 The Media Research Center's Kevin Tober ranted in an Oct. 2 post:
On CBS's Face the Nation, anchor Margaret Brennan spent much of her interview Sunday with Senator Rick Scott (R-FL) by arguing with him that Vice President Kamala Harris didn't advocate racial equity when it comes to helping Floridians whose homes were destroyed or damaged by Hurricane Ian.

After Brennan asked Scott about her favorite topic, former President Donald Trump and comments he reportedly made about Republican Senate leader Mitch McConnell, Scott rightfully ignored her and brought up Harris's divisive comments about "equity."

"I would also say that what Vice President Harris said yesterday—or the day before yesterday, you know, if you have a different skin color you're going to get relief faster," Scott responded.

"That's not what the Vice President said. She talked about equity," Brennan blurted out, apparently unaware that what Scott described is exactly what equity is.
Despite Tober accusing Brennan of "gaslighting" about what Harris said, the real gasligher here is Tober. As we documented when the MRC's "news" division, CNSNews.com, did the same thing, Harris' remark was taken out of context to falsely portray it as being about hurricane relief when her full remarks show she was referring to equity in recacting to climate change, and numerous fact-checkers agree.
Which brings us to an Oct. 4 post by Tim Graham, who whined (as he often does) that his subordinate was fact-checked and, rather than point out where Tober was right or wrong, attacked the fact-checker:
On Sunday, our Kevin Tober noticed Sen. Rick Scott faced pushback from CBS Face the Nation host Margaret Brennan when he said Vice President Kamala Harris was arguing that racial "equity" should be applied in disaster relief. It was only a matter of time before the "independent fact checkers" lined up to defend Harris.

Here in our NewsBusters Twitter notifications came a tweet from deputy White House Twitter troll Andrew Bates, lining up his helpful Democrat-enabling fact-checkers. (We're not adults? Fact check?)

PolitiFact was the first stop on the Bates list. Here's how tilted PolitiFact is: since the Biden-Harris inauguration, Kamala Harris has only four fact-checks: two Mostly Trues, a Mostly False, and a False. So it's basically 50-50.

By contrast, Sen. Scott of Florida -- where PolitiFact is based -- drew thirteen fact checks in the same time period. None of them were rated True or Mostly True, one Half True, with four False and eight Mostly False. So it's on the False side 12 of 13 times, or 92 percent.

Scott drew a False from Jeff Cercone with the summary headline: Kamala Harris said about Hurricane Ian that "if you have a different skin color, you're going to get relief faster." That's not what she said -- in quote marks.

It can be interpreted that "communities of color" should get priority attention for "environmental justice," but it's not what she said. She spoke generally and not specifically.

[...]

So this is fact-check territory. Our problem here is target selection. Let us repeat: Joe Biden can say the Republicans are "Jim Crow 2.0," and PolitiFact naps.
At no point did Graham admit Tober (or any other Republican who spread the false narrative) was wrong, nor did he admit that there was context missing from GOP interpretation of her remarks. He was content to instead make it another battle in his war on fact-checkers -- and hid the fact that the fact-checkers were right.
Posted by Terry K. at 3:36 PM EST
Updated: Monday, November 14, 2022 1:42 PM EST