MRC Whines That Oprah Endorsed Fetterman
Topic: Media Research Center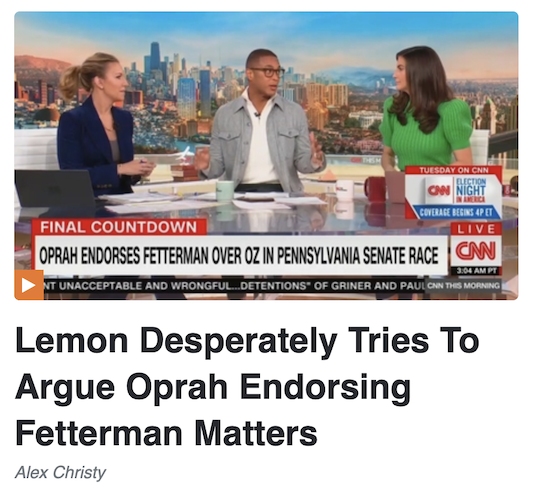 The Media Research Center began waging war on John Fetterman when it decided it could exploit his stroke for partisan reasons and boost his Democratic opponent for in the Pennsylvania Senate race, Mehmet Oz. The weekend before the election, the MRC attacked Fetterman again, but for more prosaic reasons -- in this case, getting an endorsement from Oprah Winfrey. Alex Christy spent a Nov. 4 post insisting that Oprah's endorsement meant nothing, even though it was a clear rebuke of Oz, whose TV career was launched by her:
Of all the stories that could've led off Friday's CNN This Morning, the one that the cast settled on was Oprah Winfrey endorsing John Fetterman in Pennsylvania's Senate race with co-host Don Lemon desperately trying to suggest it all mattered.

Lemon kicked things off by hyping "Oprah Winfrey, Oprah, snubbing the man she turned into a household name. Endorsing John Fetterman over Dr. Mehmet Oz in Pennsylvania's very, very tight Senate race."

After an unrelated clip of former President Trump in Iowa, Lemon continued trying to make the Oprah-Fetterman endorsement a big deal, "Let's start now, Jessica Dean live from Montgomery County, just outside of Philadelphia. So good morning to you. It's interesting because Oprah helped to make Dr. Oz famous but now she's endorsing his opponent, John Fetterman. Do you think it's going to swing any votes?"
In defiance of Betteridge's law of headlines, Dean suggested that it might:
Nicholas Fondacaro kicked off his daily two minutes hate of "The View" by only alluding to Oprah's endorsement while bashing the show's interview of Fetterman for not being as hateful as he would be:
The Friday edition of ABC's The View brought with it one of the more highly anticipated interviews for the show, Pennsylvania Lt. Governor and Democratic Senate candidate John Fetterman. If you predicted it would be a cakewalk for him, you'd be correct. They refused to grill him pretty much on anything and instead repeatedly teed him up to go after critics and his Republican opponent, Dr. Mehmet Oz, and downplayed his obviously strained health condition.

Wasting her first question asking about his endorsement from Oprah, co-host Joy Behar didn't push for him to release his medical records but rather for him just to explain what his doctors told him:

[...]

Bringing things back to the debate last week, Hostin suggested "it was an incredibly courageous and brave thing for you to show what healing from a stroke looks like. That's incredibly brave." She then doubled down on her past assertion that Oz was a "bully" during the debate.

"Does any of this surprise you? A man with a Harvard master's degree, do you think the people of Pennsylvania saw what they needed to see from you to gain their vote?" she teed him up.

Hostin has repeatedly tried to portray Oz as a quack, he too has a degree from Harvard, and while she touts Fetterman's, he did not receive his post-stroke.
Curtis Houck brought the conversation back to deflecting from Oprah's endorsement:
Friday on the "big three" network morning shows from ABC, CBS, and NBC, the trio eagerly touted Oprah Winfrey's endorsement of handicapped Lt. Gov. John Fetterman (D) over her longtime colleague and Fetterman's GOP challenger, Dr. Mehmet Oz.

[...]

NBC's Today went the lightest on the midterms, but heaviest on Oprah Winfrey. Co-host Savannah Guthrie teased "a surprise endorsement from Oprah in one of the nation's closest races," with co-host Craig Melvin adding a few minutes later that it was "a major endorsement."

Saturday Today co-anchor Peter Alexander also called it "a surprise endorsement," noting she "gave Oz his start in TV nearly 20 years before the heart surgeon launched his own talk show in 2009."

"The Oz campaign responding overnight, writing, 'Dr. Oz loves Oprah and respects the fact that they have different politics. He believes we need more balance and less extremism in Washington,'" he added.

ABC's Good Morning America had correspondent Eva Pilgrim briefly mention it during a report on the Pennsylvania Senate race: "And overnight, Oprah, who gave Dr. Oz his start in TV and worked with him for years, endorsing his opponent, Fetterman. Now, Fetterman was previously ahead in the polls here, but we have seen that lead diminish as we head towards election day."

CBS chief campaign and election correspondent Robert Costa touted it on CBS Mornings as one of the "surprises in the works" and "big news." With Winfrey's best friend and Democratic donor Gayle King off, it was left up to her co-hosts to marvel. Co-host Tony Dokoupil interjected with a "wow" while co-host Nate Burleson had an "mmmm."
That's a lot of complaining about something that supposedly doesn't matter.
And that, four days before the election, was pretty much the last pre-election anti-Fetterman gasp for the MRC. It didn't attack Fetterman or his stroke any more before election day -- whcih suggests that that it may have decided that its stroke obsession may not have worked or even backfired. It also suggests that, despite the MRC's kneejerk protestations to the contrary, Oprah's endorsement may have mattered after all -- enough to prematurely stop the partisan attack machine, anyway.
Posted by Terry K. at 8:55 PM EST