CNS' Summer Interns Put Right-Wing Talking Points Ahead of Journalism
Topic: CNSNews.com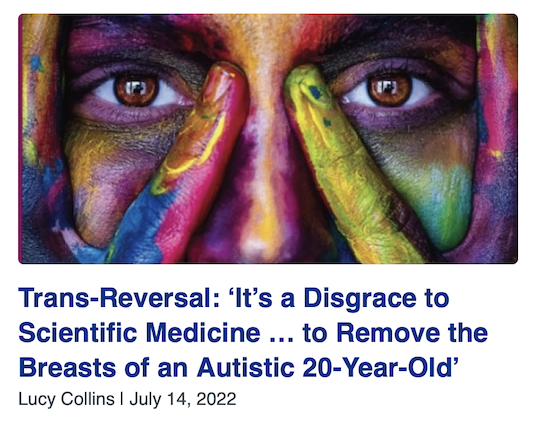 We've shown how CNS' summer interns have been engaging in fake news and partisan right-wing talking points rather than the journalism they are ostensibly supposed to be doing at a "news" organization. But those examples were far from the only times when CNS interns were more interested in pushing a narrative instead of reporting news, particiularly on hot-button right-wing cultural issues.
Lucy Collins -- who botched an attempt to downplay gun violence by comparing it to abortion and touted notorious homophobe Matt Walsh's anti-transgender film -- went the anti-trans route again in a July 14 article:
During an online symposium for college students about gender identity, two de-transitioned women – females who had transitioned to males and then back -- shared their stories and said their doctors and families failed them in not recognizing that conditions like autism and ADHD were the actual cause of their gender dysphoria.

"I look back on it and think 'how could you possibly have missed this?'" said one woman, Michelle Alleva. "This is something that would have been -- that's so crucial to the decision that I was making to transition, and it was never offered to me."

Laura Becker said, "It's a disgrace to scientific medicine, nuanced psychological analysis, and human compassion to remove the breasts of an autistic 20-year-old girl because she hated herself and didn't know what she was doing in the midst of a traumatic crisis."

Both Becker and Alleva had undergone medical treatment to transition to "males," but now have gone back to females. The symposium was sponsored by Genspect, an organization that advocates for a better model of transgender care than the current "affirmative" approach.

[...]

Genspect moderator Stella O'Malley said, "The low stats that are quoted there, they're flawed. For example, a very often quoted one is 1% have de-transitioned. We've all heard that stat. But anybody who really knows the research knows that it is a very flawed stat as 36% of the people left the treatment at the center. So, it's all this lost follow-up and then 75% aren't contacting [the center after treatment]."
Collins' benign description of Genspect hides the fact that it is, in fact, an anti-transgender group, and that O'Malley is on tape as opposing any form of gender-affirming care. Collins also made sure not to let any opposing view that's not as hostile to transgenders and treatment of them into her article.
Janey Olohan served up anti-abortion talking points in a July 25 article:
The Susan B. Anthony Pro-Life America organization denounced the Democrats' "Right to Contraception Act," stating that the legislation should be called the "Payouts for Planned Parenthood Act."

"Far from being a bill that simply allows for access to contraception, this bill seeks to bail out the abortion industry, trample conscience rights, and require uninhibited access to dangerous chemical abortion drugs," said the organization.

The legislation would provide "federal funding for abortion providers who also happen to provide contraceptives," said SBA Pro-Life America. "Despite the fact that even under the Trump administration, domestic family planning [including contraception] was federally funded at nearly $1.8 billion in FY 2020, this bill seeks to guarantee funding to abortion providers by barring federal and state governments from redirecting contraception funding to life-affirming health care providers."

The pro-family group also noted that the Right to Contraception Act provides a very broad definition of "contraceptive," which means it potentially could "mandate access to abortion drugs," such as mifepristone and misoprostol.
Olohan did not explain what forms of contraception Susan B. Anthony Pro-Life America would actually approve, which is particularly relevant with the overturning of Roe v. Wade. That's a missed reporting opportunity. While Olohan did not permit anyone to respond to the anti-abortion group's assertions -- while also embedding links in bold type to supporrting talking points -- she did include a couple of paragraphs from a Democratic congresswoman in support of the bill, though the relevant supporting link was in regular type, not boldface.
Olohan served up more talking points for the anti-abortion movement in an Aug. 3 article:
A medical analysis from the Charlotte Lozier Institute released in July revealed that every state with pro-life laws allows necessary medical treatments for women, permitting any procedure that would save a woman's life.

Despite the ever-increasing outcry that pro-life laws prevent women from receiving the care they need, this Charlotte Lozier Institute medical analysis reveals that each of the 23 states with strong pro-life laws allows treatment for miscarriage, ectopic pregnancy, and any life-threatening conditions.

[...]

The Lozier Institute clearly laid out that "every state pro-life law includes clear exceptions allowing medical treatment to save the life of the mother, and permits treatment for marriage and ectopic pregnancy, which can cause life-threatening complications. Several states provide further clarity by specifically excluding treatment for miscarriage and ectopic pregnancy from their definition of abortion."
Olohan failed to cite specific recent cases in which anti-abortion laws were indeed quite fuzzy -- particularly the case in which a 10-year-old rape victim was forced to go to Indiana to have an abortoin because state law does not include exceptions for rape and incest. AS in her previous article, Olohan did not let anyone specifically respond to the claims by the Lozier Institute -- which she did not identify as the anti-abortion organization it it -- waited untiil the final few paragraphs to note criticism of anti-abortion laws by Planned Parenthood, which actually did allude to the Ohio case.
Olohan also did some Fox News stenography on an economic issue in another Aug. 3 article:
The reconciliation bill crafted by Sens. Joe Manchin (D-W.Va.) and Chuck Schumer (D-N.Y.) and supported by the Biden administration will raise electricity and gas prices, hike taxes, and kill about 218,000 blue-collar jobs in 2023, said Marc Lotter, the chief communications officer of the America First Policy Institute.

On Fox News @Night, Aug. 1, Lotter said, "The National Association of Manufacturers says this bill will cost 218,000 blue-collar workers their jobs next year. Your electric and heating bills are going up, your gas is going to go up by $25 billion as a tax increase for oil companies that's going to get passed along at the pumps."

[...]

In a press release, Jay Timmons, president and CEO of the National association of Manufacturers said, "This proposal is nothing more than a repackaging of the same bad ideas with a new name slapped on it. It is especially harmful because it will undermine manufacturers' competitiveness at a time when the industry is reeling from supply chain disruptions and record inflation."

"Manufacturers kept our promises after the 2017 tax reforms, hiring more workers, investing in our communities and raising wages and benefits," said Timmons. "Raising taxes now will hurt manufacturers' ability to keep delivering for our people and mean fewer opportunities for Americans already worried about their financial future."
You will not be surprised to learn that Olohan made no effort to fact-check any of this, nor did she identify the America First Policy Institute as a right-wing organization. In fact, it appears that the NAM's claim that the 2017 tax bill -- which reduced corporate tax rates -- allowed manufacturers to be "hiring more workers, investing in our communities and raising wages and benefits" is not true at all; Industry Week reported that most companies used the newfound money to buy back stock instead of investing in operations or paying workers more.
Posted by Terry K. at 2:25 PM EDT