MRC Whines That Assassinated Japanese Leader Accurately Labeled As On The Right
Topic: Media Research Center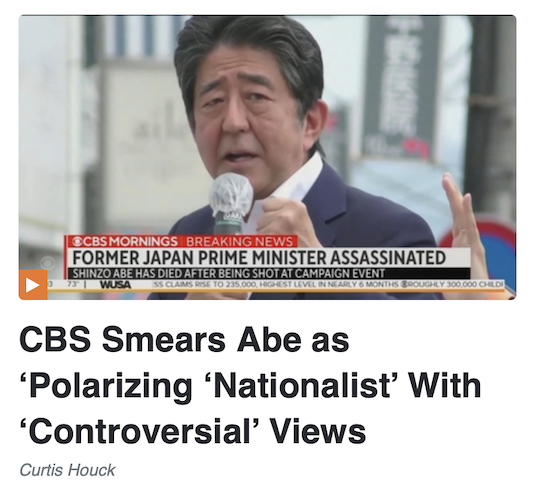 The Media Research Center loves to be outraged that conservatives are accurately labeled as such, and it was so again following the assassination of former Japanese prime minister Shinzo Abe. Curtis Houck whined in a July 8 post:
Much of the world awoke Friday to news that former Japanese Prime Minister Shinzo Abe had been assassinated by a deranged suspect with a homemade shotgun. Instead of eulogizing Abe and expressing condolences to the Japanese people, CBS Mornings decided it would join the Associated Press and National Public Radio (NPR) in smearing Abe as "a polarizing figure," "right-wing nationalist, and conservative" whose "political opinions were controversial."

Foreign correspondent Elizabeth Palmer's piece began as one would expect, stating from Tokyo that "[i]t would be hard to overstate just how much of a shock this is in normally nonviolent Japan. People are really feeling traumatized."

Palmer shared what we know thus far about the assassination and remarked that "[a]lthough...Abe was giving a stump speech in a wide-open area" for a member of his party, "security...wasn't particularly tight" since "this is a country where yearly gun deaths typically number in the single digits."

A fan of the Iranian regime (such as here, here, here, and here), Palmer then uncorked her hot takes, trashing the murdered former world leader as "[a] polarizing figure...a right-wing nationalist and conservative and a fierce supporter of Japan's military."

Ignoring Abe's ties to Presidents Biden and Obama, Palmer framed him as a Trumper:
Houck also whined that NPR referred to Abe in a tweet as "a divisive arch-conservarive," which he claimed is "reminding many of why they should be defunded." Aside from the weak retort about Abe's "ties to Presidents Biden and Obama," Houck did not dispute the accuracy of the description or why it was a "smear" to make an accurate statement -- he was simply angry that it was reported.
Nicholas Fondacaro further complained later that day, again attacking NPR and again playing whataboutism:
In the wake of the assassination of former conservative Japanese Prime Minister Shinzo Abe on Friday, elements of the liberal media made sure to get their kicks in as they slapped on nasty labels to show their disgust with his politics. This comes in contrast to their glowing words and emotional goodbyes to communist dictators and murderers, and Muslim terrorists.

The anti-Abe pronouncement getting a lot of attention on Friday was NPR's now-deleted Tweet describing the recently murdered world leader as a "divisive arch-conservative." In the replacement tweet, they still had the knives out as they smeared him as an "ultranationalist."

And in the piece itself, international correspondent John Ruwitch used the "ultra-nationalist" [sic] label again and left kinder words to people like Indian Prime Minister Narendra Modi who said Abe was "a towering statesman, an outstanding leader, and a remarkable administrator."

Even in American politics, NPR couldn't be bothered to cover the attempted assassination of U.S. Supreme Court Justice Kavanaugh. But in 2016, an NPR reporter described getting a kiss from the murderous communist Castro brothers of Cuba as the "blessing of the Holy Trinity."
Fondacaro, like Houck, did not explain why that labeling of Abe isn't accurate or is "nasty."
Tim Graham brought this up in his July 8 podcast, again lashing out at NPR and following MRC practice by not explaining why the label is not accurate but iranting about the "notable lack of decency" anyway and demanding "diplomacy" and "sensitivity" in reporting, going on to whine: "I thought, oh, I don't know, Hideki Tojo was the ultranationalist, you know, the one who alighed with the Nazis. How can NPR be this tone-deaf?" He ranted that nobody uses the word "ultra" to label anyone on the left -- even though one need only to go back a couple weeks to the NewsBusters promotion for his own June 20 podcast to find him hyperbolically labeling Democratic Rep. Jamie Raskin as an "ultraliberal."He wined further:
If Fox News did this to some socialist prime minister, especially some socialist minister who had been shot dead, the people would all lose their liberal minds, because socialists are wonderful people. Yeah, apparently Abe's sin was China no likey. Russia wasn't really a fan. So if you upset China and North Korea and Russia, well, you're controversial. Who's letting these commies define what's controversial?
Yes, he really said "China no likey." Seems a tad racist.
He went on to claim that Abe's attempt to revise Japan's post-World War II constitution to remove its pacifism was what made him divisve: "Notice, pacifists are never divisive" and to whine that some reporters didn't hate Cuba's Fidel Castro enough when he died and spewed more hate on NPR.
Posted by Terry K. at 4:11 PM EDT