CNS Intern Senator-Pestering Season, Recycling Edition
Topic: CNSNews.com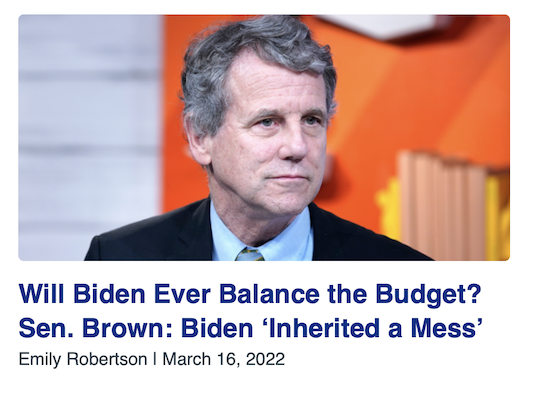 Things are apparently slow enough on the CNSNews.com intern-pestering circuit that questions are being recycled.
Last fall, the intern du jour asked senators if they would read all 2,465 pages of the Build Back Better bill. This time, =intern Emily Robertson asked senators, "Will you read all of the 2,741 pages of the omnibus spending bill before you vote on it?"These senators got shanghaied into answering it:
Robertson also wrote an article on the omnibus bill's passage in which she slipped in a few more senators answering her question.
Also last fall, the intern asked senators, ""The federal deficit through the first 11 months of this fiscal year was $2.7 trillion and the federal debt is now $28 trillion. Will the Biden administration do anything to balance the budget?" (a question we don't recall any intern asking about Donald Trump).Robertson's question was worded nearly the same way: "The federal government ran a $2.7-trillion deficit in fiscal 2021 and has a $475-billion deficit so far this year. Will President Biden ever balance the budget?" The list of senators who responded (and got their own article):
It seems even Robertson got tired of cranking out these articles, since she wrote three more articles combining several (Republican) members of Congress virtue-signaling on the budget. She also got a separate article on how Nancy Pelosi "falsely claimed on Tuesday that President Joe Biden has not increased the national debt" when she was made to answer the question.
Robertson was fed an original question as well. Last month, abortion-obsessed editor Terry Jeffrey fixated on how solicitor general Elizabeth Prelogar "inadvertently admitted in the Supreme Court's oral arguments in Dobbs v. Jackson Women's Health Organization that an unborn baby is indeed a 'baby,'" generating both a "news" article and a column out of it. And so, Robertson was made to ask kenators: ""In oral arguments, in Dobbs v. Jackson Women's Health Organization, Biden Solicitor General Elizabeth Prelogar referred to an unborn baby as a 'baby' -- was she right?" She got a few senators to respond:
Oddly, she did apparently did not ask that question of any Democratic senator, even though it's the kind of ideal gotcha question CNS loves, which puts liberals on the spot and lets conservatives virtue-signal.
Posted by Terry K. at 12:06 AM EDT