The Election's Over, So WND Can Go Birther Again
Topic: WorldNetDaily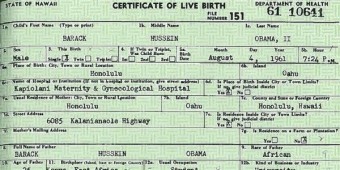 Now that the election is over, it's apparently safe for WorldNetDaily to be birther again.
A Nov. 24 WND article by Bob Unruh gets back in the ol' bnirther spirit by reporting taht "WND has learned that a news conference has been scheduled for Dec. 15 to make public the final conclusions of the investigation by the Cold Case Posse in Arizona's Maricopa County under Sheriff Joe Arpaio, who was defeated Nov. 8 in his bid for a seventh term."
Actually, the announcement that a press conference was coming had been known for about a week prior to WND's article.
From there, Unruh descended into a rehash of the giant fake-news story that has been WND's birther coverage. He first asserts that "The review was sparked by requests to the sheriff from his constituents, who feared a fraud had been perpetrated on the American people." Actually, it was sleazed into existence when WND's Jerome Corsi used a tea-party group in Maricopa County as cover for Arpaio to create the cold case posse.
Unruh also does what WND has been reluctant to do: identify its good friend Carl Gallups is a birther.
Unruh uncritically repeats the claim that cold case posse leader Mike Zullo's "has indicated the White House computer image of Obama's birth certificate contains anomalies that are unexplainable unless the document had been fabricated piecemeal by human intervention, rather than being copied from a genuine paper document." in fact, it's been proven that the same "unexplainable" anomalies can be reproduced by using a common office scanner to scan in the certificate.
Unruh also writes that "Zullo has noted that Reed Hayes, a document examiner who has served as expert witness for Seattle law firm Perkins Coie – the firm that flew an attorney to Honolulu to personally deliver two paper copies of the birth certificate to the White House – has concluded in a signed affidavit that the document posted on the White House website is 'entirely fabricated.'" But Zullo has curiously never publicly released Hayes' report, and as we've noted, Hayes is a handwriting expert, and no evidence has been provided that he has any experience examining a computer copy of a document.
Unruh goes on to recite Donald Trump's 2011 pro-birther statements -- which WND assisted him in developing behind the scenes -- but he strangely omits the statement Trump made during the campaign that "President Barack Obama was born in the United States. Period."
Unruh also adds:
The Constitution requires the president to be a "natural-born citizen" but does not define the term. Scholarly works cited by the Founders defined it as a citizen at birth by virtue of being born in the country to two citizens of the country, or merely the offspring of two citizens of the country. The birth certificate Obama displayed on the White House website declares he was born in Hawaii to an American mother and a Kenyan father.
This narrow definition of "natural born citizen" was one that WND tried to pretend didn't exist when it came to Ted Cruz's eligibility to be president, to the point that WND effectively renounced birtherism rather than apply those same standards to Cruz.
As we knew at the time, that renouncement was cynically motivated, politically driven and, as Unruh's article demonstrates, always intended to be temporary. And, of course, it proves that WND's birther crusade was never about the Constitution and always about Farah's attempt to personally destroy Obama.
WND had to keep quiet about birtherism -- its signature story of the past eight years -- lest it harm Trump's candidacy. Even Corsi absolutely refused to talk about it when Trump admitted Obama was born in the U.S., insisting that "I'm done with the topic until Obama's out of office."
But Trump has been elected, and that means it's safe for WND to be openly birther again -- and keep peddling those discredited birther lies.
Posted by Terry K. at 12:38 AM EST