Bias (And Poor-Shaming) In Action At CNS
Topic: CNSNews.com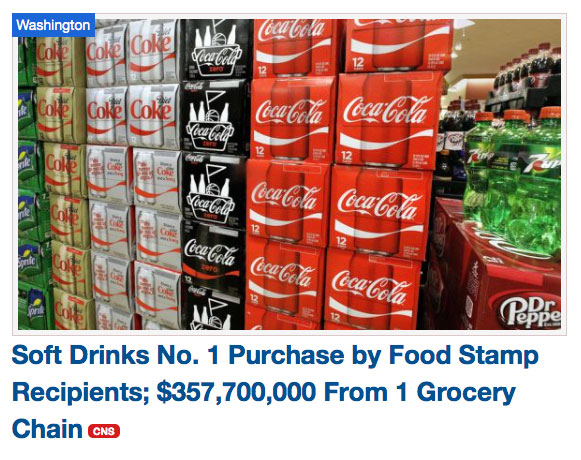 Huffington Post reporters wrote a pretty straightforward story about the food items that people on food stamps buy:
Though people like to complain about food stamp recipients using their benefits for unhealthy things like soda and extravagances like crab legs, new data show they buy basically the same food as everyone else.

Households participating in the Supplemental Nutrition Assistance Program and households that didn't get benefits both bought a lot of junk food, according to a new study commissioned by the U.S. Department of Agriculture, which oversees the program.

About 40 cents of every dollar went to basics like bread, milk, meat, eggs, fruits and vegetables for both types of households. And 20 cents of every dollar went to sodas and salty snacks. As a percentage of their spending, soft drinks were the top individual commodity among food stamp households, and they came in second place among non-SNAP households.
Run that information through the right-wing bias filter at CNSNews.com, however, and you get this story by editor in chief Terry Jeffrey:
Soft drinks were the top commodity bought by food stamp recipients shopping at outlets run by a single U.S. grocery retailer.

That is according to a new study released by the Food and Nutrition Service, the federal agency responsible for running the Supplemental Nutrition Assistance Program (SNAP), commonly known as the food stamp program.

By contrast, milk was the top commodity bought from the same retailer by customers not on food stamps.

In calendar year 2011, according to the study, food stamp recipients spent approximately $357,700,000 buying soft drinks from an enterprise the study reveals only as "a leading U.S. grocery retailer."

That was more than they spent on any other "food" commodity—including milk ($253,700,000), ground beef ($201,000,000), "bag snacks" ($199,300,000) or "candy-packaged" ($96,200,000), which also ranked among the top purchases.
The important fact that the SNAP recipients' grocery cart was very similar to that of non-SNAP recipients was buried in the 10th paragraph of Jeffrey's article.
The implication of Jeffrey's bias -- much of his article obsesses over how much SNAP money went to soda and snack foods even though, again, the amount is similar to what non-SNAP households buy -- is that he wants SNAP recipients to be punished for being poor and for behaving exactly like their not-as-poor neighbors.
Poor-shaming seems to becoming a thing at CNS. In July, CNS reporter Susan Jones fretted that an Obama administration fair-housing initiative would help "move inner-city minorities, for example, into subsidized housing in wealthier, whiter suburbs."
Posted by Terry K. at 3:56 PM EST