WND Hides That Farah Was The Original #NotMyPresident Guy
Topic: WorldNetDaily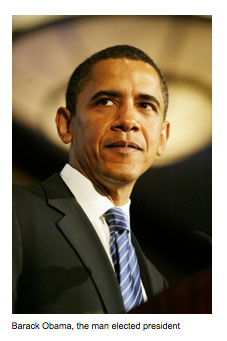 WorldNetDaily is a little concerned that Americans aren't accepting Donald Trump as their president:
A Nov. 13 article quoting far-right radio host Michael Savage advocating for the revival of the House Un-American Activities Committee expresses concern that "there is already a concerted effort to deny the legitimacy of Trump's election, with 'Not My President' serving as a popular slogan for left-wing groups around the country."
Barbara Simpson's Nov. 13 WND column berates the "idiots are in the streets" protesting Trump's election and "screaming that he is not their president," adding: "Just for a moment, imagine what the reaction of the media would have been if conservatives reacted this way when Barack Obama was elected. Of course, that never happened, nor would it."
Actually, Barbara, it kinda did, and the guy who publishes your column -- WND editor Joseph Farah -- led it.
In a June 2009 WND article promoting a Farah appearance on Savage's radio show, a picture of President Obama is captioned not with "Preeident Obama but with the cumbersome "Barack Obama, the man elected president."
And in a June 2014 column, Farah made it very clear: "Obama has never been my president. I have steadfastly refused to acknowledge him as such. He is undeserving of the honorific. To this day, I am unconvinced he is even eligible for office."
So, it's rather rich for WND complain that some won't acknowledge Trump as president when WND's leader still refuses to acknowledge that Obama currently is. Had Twitter been around in 2008, Farah would have created the #NotMyPresident hashtag.
Posted by Terry K. at 12:35 AM EST