Roger Stone's Lackey, WND's Jerome Corsi, Comes To His Defense Over Voter Intimidation
Topic: WorldNetDaily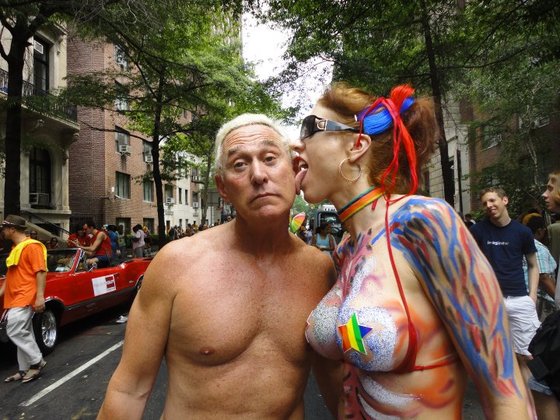 WorldNetDaily's Jerome Corsi has been Roger Stone's lackey throughout the 2016 election, serving as a willing, unquestioning conduit for whatever anti-Clinton sleaze Stone wants to vomit out into the public.
Still, we find it hard to believe Corsi could keep a straight face as he served up -- without question, like the good lackey he is -- Stone's defense in a Nov. 1 WND article for the voter intimidation campaign he's planning, under the name Stop the Steal, against Democratic lawsuits to stop it:
Stop the Steal. Inc., a non-profit 527 grassroots organization created by Stone, a longtime adviser to Trump, wants to post non-partisan "Vote Protectors" at some 7,000 polling locations in key precincts throughout the nation. The volunteers will be trained to take scientifically based exit polls to help determine whether or not the final totals reported from voting machines reflect the actual vote.

[...]

Stone told WND the lawsuit is without merit.

"Precincts are chosen base on one-party rule and past reports of irregularities, not racial make-up, as falsely reported in the alt-left media," Stone said.

"Since it is our intention to interview voters voluntary after they vote, it is hard to see how voters would find this intimidating," he insisted. "Our methodology is no different than that used in the network consortium exit polls."

Stone told WND that Stop the Steal has not coordinated with the Trump campaign, the Republican National Committee or the individual Republican state committees.

"We seek only to determine if the election is honestly and fairly conducted and to provide an evidentiary basis for a challenge to the election if that is not the case," he insisted. "I assume the purpose of this bogus lawsuit is to distract from the voter-fraud the Democrats have traditionally engaged in."
In fact, as the Huffington Post reported, Stone's "Vote Protectors" organization created an official-looking ID badge for its volunteers to wear, and its volunteers planned to videotape voters and conduct fake "exit polls" -- efforts that election experts say risks intimidating and confusing voters. Stone quickly took the ID badge generator off his website after being questioned about it.
While Corsi let Stone deny he's coordinating with the Trump campaign, the vidence suggests otherwise. The Huffington Post also reported that Stone told far-right radio host Alex Jones that his so-called "exit polls" could be used by the Trump campaign to contest election results to the candidate, and that some Vote Protectors signees do, in fact, plan to indimidate voters.
Corsi then attempts to justify Stone's shady operation by explaining how exit polls work, but he doesn't provide evidence that this is how Stone plans to run his.
Posted by Terry K. at 3:37 PM EDT
Updated: Wednesday, November 2, 2016 3:38 PM EDT