CNS Editor Endorses Violating The Rule Of Law
Topic: CNSNews.com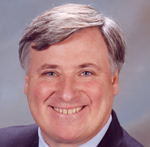 Terry Jeffrey's Sept. 2 CNSNews.com column carries a headline in the form of an extremely dumb question? "Can a Christian Be a County Clerk in America?"
To any reasonable person, the answer to that is an unqualified yes -- in fact, we can probably take it as a given that the vast majority of county clerks in America are Christian.
But the actual issue here is whether a self-proclaimed Christian in public office has the right to deny public services based on her personal religious beliefs. And Jeffrey has apparently decided that only a Christian who denies the existence of gay rights, or gays period, is the only true Christian, and everyone else is not a real Christian at all.
Which, of course, means that Jeffrey is defending Rowan County, Kentucky, clerk Kim Davis for denying a marriage license for a same-sex marriage, even though it is legal across the country.Jeffrey presents Davis as "a devout Christian, with a moral problem," making sure not to mention the fact that she has been married four times. (Davis' lawyers claim her past doesn't matter.)
Jeffrey whines: "The crusade against Davis aims to establish that if you are a Christian, who believes in Christ's teachings on marriage and will not act against them, you are no longer qualified to serve as a county clerk in the United States."
Jeffrey ignores the fact that Davis' personal preferences are denying the civil rights of others, not to mention violating the rule of law -- something that conservatives normally oppose. Indeed, anti-gay conservatives like Jeffrey have not been rushing to defend Davis:
Anti-gay activist Maggie Gallagher states, "There is no way to maintain the rule of law if public officials can ignore direct court orders."
Ryan Anderson, who just wrote a book on "the future of marriage and religious liberty," admits: "The citizens of Rowan County have a right to receive in a timely and efficient manner the various government provisions—including licenses—to which they are entitled. ... Saying your religion requires your entire office to stop issuing marriage licenses to everyone, while perhaps a sincere belief, cannot be reasonably accommodated without placing undue hardships on the citizens unable to receive their licenses in their county and forced to drive to another."

Jeffrey also has a rigidly dogmatic view of Christianity, one that many other Christian denominations do not share. Most Christian denominations do not teach their believers to deny gays civil rights that have been granted by the state. nor do they demand that parishoners who hold public office use that office to enforce church policy.
Thus, Jeffrey's defense of Davis breaks down because it's extremely situational. It doesn't apply to anyone who doesn't share his personal beliefs -- that is, anyone not as rigidly dogmatic, Christian, or anti-gay as he and Davis are. We suspect that a person in public office who was not a dogmatic Christian -- say, a Muslim -- who was using the office to forward his religious views would get quite a different reaction from Jeffrey.
Posted by Terry K. at 8:45 AM EDT