WND's Barbara Simpson Ignores Facts To Rage At Immigrants
Topic: WorldNetDaily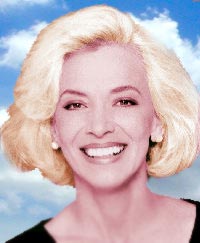 Barbara Simpson rants in her Aug. 3 WorldNetDaily column:
There's only one way to describe my immediate reaction a couple of weeks ago when it was announced that the feds were going to use an upscale resort in Weslaco, Texas, to house illegal aliens.

The announcement came with pictures of the intended illegal domicile. It looked like something a travel agent would use to entice you to book a reservation.

I looked at those pictures and felt as though someone had plunged a knife in my gut. I had never felt that way before. It was depressing.

I looked at those pictures and realized with horror and dejection that my country was lost and that the likes of Barack Obama and his ilk were destroying our borders forever, and they would continue, virtually unimpeded, to destroy the greatest nation this planet has ever known.

The resort had all the amenities that only people with a substantial income could afford if they were in the market for a wonderful vacation – green lawns, lighted tennis courts, three pools, a Jacuzzi, an exercise room, suites, concierge service and all the amenities, plus retail and meeting space on seven acres.

For reasons not fully explained, the place was unoccupied and as far as the feds were concerned, it was ready and waiting for the occupants they were more than ready to provide.

It was just sitting there – waiting – for illegal aliens, people in this country illegally.

The intent was to have the illegals ensconced in luxury they could never have imagined, and it would all be free, along with meals, educational and recreational programs, case management, residential child care, as well as medical and mental health care – of course.
Simpson is so invested in her hatred of immigrants that she's ignoring facts about the proposed facility that debunk her rage.
"The feds" were not going to run this facility; a local group, Baptist Child and Family Services, were. And it would have been turned into a dormitory-type facility like others BCFS runs, not operated in a way to have "illegals ensconced in luxury."
Because of misinformation promulgated by conservatives like Simpson, BCFS has abandoned its plan for the facility.
But never mind the facts, Simpson still has rage to vent:
The common thread in all of this is that America taxpayers are paying for it and will be left with open borders and the influx of millions of uneducated, unskilled, non-English-speaking people who will fancy themselves American citizens.

What a farce.

Thanks, Barack, for killing my country, without firing a shot.
And thanks, Barbara Simpson, for demonstrating what an ideal WND columnist you are with your complete disregard for the facts.
Posted by Terry K. at 12:28 PM EDT