Depiction-Equals-Approval Fallacy Watch
Topic: Media Research Center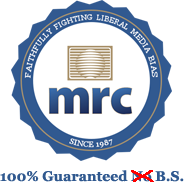 You'd think that after 25 years of attacking the media, the Media Research Center would have developed a clue about how news works. Apparently not.
A July 30 MRC item by Kyle Drennen carries the headline "NBC Touts Palestinian Teen Praising 'Justified' Hamas Terror Attacks on Israe." Drennen complains that NBC "highlighted a Palestinian teenager celebrating the terror group's attacks: 'In Gaza, many see these attacks as justified. 16-year-old Farah Bakkar has developed a following online after live tweeting as [Israeli] bombs fell....Farah never supported Hamas before, but does now.' A sound bite ran of Bakkar proclaiming: 'When I see the [Hamas] rockets getting to Israel, I start loving them more and more and I pray for them.'" Drennen presents this as NBC endorsing the teen's remarks.
This is the Depiction-Equals-Approval Fallacy run amok. It's simply absurd to claim, as Drennen is trying to do, that the inclusion of a point of view in a news report means the news outlet agrees with that viewpoint.
After all these years, this is what passes for "media research" at the MRC.
Posted by Terry K. at 3:18 PM EDT