Joseph Farah Is Claiming HOW MUCH As A Tax Deduction For Books?
Topic: WorldNetDaily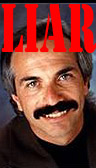 Joseph Farah has a hissy fit over the IRS in his May 27 WorldNetDaily column:
I've never been a tax protester, because I knew that because of my profile, the IRS would love to make an example of me. I've never tried to "cheat" the IRS out of a dime it claimed I owed. I decided long ago I would fight in the arena of public opinion rather than in a street fight with people better armed than I.

But I drew a line in the sand on the 2011 audit. I have refused to pay the money the IRS claims I owe. And I will continue to avoid paying it unless and until I am faced with jail or a firing squad. And here's why …

Most of my deductions were for books I purchased as part of my professional work. Yes, I buy a lot of books. It's just the nature of what I do as an author, as a speaker, as a commentator and as a journalist. I offered receipts for all of these purchases that included the dates each book was bought, the amount paid and the company (Amazon) I bought them from.

The one thing I omitted were the titles.

I didn't think it was any of the IRS' business what I read. I still don't. But the IRS made it clear that without my providing this additional information, the deductions would be disallowed.

And that's where the standoff remains today.

To me, it's bad enough that the IRS has the power to see all my personal financial information. I just don't think it legitimately has the power to force me to reveal what I read in the privacy of my own home. Does that make sense?

Unfortunately, it did not make sense to the politically motivated auditors at the IRS. Why should it? It was because of my opinions, my writings, my work as a publisher and author that I was targeted in the first place.

To me, it is a double outrage that I would be coerced by monetary penalty to reveal to the IRS the subject matter of what I read.

But, my personal plight just got even more complicated thanks to the Obama administration's abuse of the IRS – and, I suspect, I am hardly alone given the growing list of victims.

Because of the revision of my 2009 return and the IRS claim that I owe an additional $8,000, the Virginia Department of Taxation just notified me that I owe my home state more, too.
Let's look at Farah's claim a little closer.
Because he could not deduct the cost of the books and other items he bought as a business expense, he says he was ordered to pay an additional $8,000 in federal taxes. Farah doesn't say how much, if any, of that is penalties, but just for the sake of argument let's say that half of it is. And since he said that "most" of those expenses were for books, let's say that three-fourths of it was for books.
That would mean $3,000 in taxes due. With an additional reasonable assumption that Farah is at least in the 25 percent tax bracket, that would mean Farah is claiming a whopping $12,000 in deductible book expenses in 2009. Did Farah really think that would not raise red flags at the IRS?
Given that, the IRS has a sound rationale for asking for the titles of the books Farah bought. After all, Farah might be trying to sneak some recreational reading in there to pad his deductions (fiction, crossword puzzles, etc.), or he may be buying multiple copies of a book he published or wrote for the sole purpose of goosing its sales numbers at Amazon. After all, he wouldn't have to purchase WND Books titles through Amazon since he owns the company and can presumably get them through other means.
It certainly looks like the IRS is acting reasonably by requesting the titles of the books Farah is claiming as business deductions. Given Farah's propensity for lying, there's no reason to take his word for anything.
(h/t reader L.C. for the theoretical numbers.)
Posted by Terry K. at 8:55 AM EDT